What does the big bad wolf represent?
October 27, 2011
In art,my best subject,I am to create a leather mask of something that stands out to me,that represents a part of my life.I have clearly chosen to do the wolf.That animal seems to fit perfectly in with my life.I love wolves,their grace and beauty,and their hostility and fierceness.Yet what does that have to do with my life?Let me explain to you my story.

The wolf has always been a bad guy in fairy tales like Little Red Riding Hood or the Three Little Pigs.He is the one that bears the sheep's clothing.He is sly and hides behind a flimsy belief of others.They don't suspect him.

Yet why is it that he always looses?Is it his hostility?His need to be to hasty?What ever it is he is always the one who gets caught.How can I use him to represent me?Well,he and I share a lot in common.I hide behind my own flimsy beliefs,I am too scared and hostile,too hasty to get things done.I have lied and in the end I get caught.Even though I know I am going to get caught I still have done it.Why?Why do I do it?I guess it is fear.

Fear of disappointment.I must seem like a monster to you right now but deep down inside I am kind and want good friends.I always try to be kind to others,but when I get offended I get defensive.That is my problem,I get too feisty.I am just waiting for someone to throw something mean at me and then I turn into the wolf.Playing their game until I have hurt them back for the pain they caused me.

The wolf is the symbol of pride,vengeance,secrets,and self denial.He hides in waiting like me.Waiting for his vengeance when opportunity comes.Nothing stands in his way when you anger him.He is a part of me.That is what the big bad wolf is,a ravenous,hostile creature.It is a part of me.An important part of me.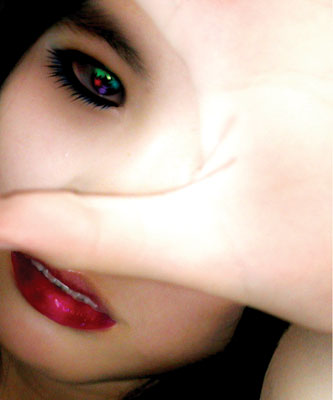 © Victoria W., Arcadia, CA