A Companion
July 29, 2011
A little black ball. Black, spotted nose, wet on the side, with a dribble of left over pumpkin from dinner. This little black ball goes by the name of Alejandro. He's no lover, as sung in the song "Alejandro" by Lady Gaga, rather, a dog. By dog, I mean friend, life long friend. I never thought I'd become friends with a dog, but contrary to my willingness to not become friends with him, it happened anyway.
I vaguely remember his first trip home from the breeder's house, just 100 miles away from my home. The car ride to and from seemed giddy to me. My smile grew larger, but the feelings inside of me actually felt nervous, a churning of my stomach.
I had never owned a dog, let alone played with one for more than a half hour. Dogs were intimidating by every means to me, until I owned one myself.
I had to keep in mind Alejandro was only a puppy, curious about the world, his surroundings and, of course, his next meal. His triumph to bite my mother's legs and mine only grew towards the anger I had. Of course, the anger I had for my dog was only because he seemed to only want to torture me with his biting. The months of teething and biting eventually wore off, and within those months, I remember attempting to befriend my dog, but sometimes my attempts became failures. I was now led to believe my dog would never like me.
But something changed just a few, short months ago. It might be Alejandro's age, or it might be mine, but the dynamic between the two of us became different. I predominantly began to love my dog – and for no apparent reason! We had formed a mutual bond for each other, without even inching towards each other. You must know I was deathly afraid to approach my dog, knowing his teeth could puncture my feet at any moment. The months of endless torture (or so it seemed) really only pulled us together. Cliché, I know.
I always thought it was silly when people would say, "he's our dog – he's part of the family" but now I see all too clearly that it's true. A dog is vulnerable. He or she only gets fed when its owner wishes to do so, whether that be at 5pm or 12pm! Dogs have butt-sniffing friends, but nothing like what their owners provide for them. A warm fire in the winter, a cool air-conditioned room in the summer, a pile of leaves in the fall, and a vase full of orchids in the spring – that's what a dog's home is. Their owners are there for them – caring for them, living for them, and so on. I didn't want to believe I was becoming a dog lover, but I was. I squinted my eyes at the thought of knowing I could get along with this 'guy.'
The most exciting feeling I feel at the end of everyday is pure thrill. Yes, it's thrilling to see my dog wag his black tail in a clock wards direction at me as he trots to the door. His squinting eyes roll back in his head as he moves his foot towards his Hine legs for a scratch. My constant "you're so CUTE. I love you. I love you. I love you" voice is probably beginning to wear thin on him, but I lead myself to believe he's enjoying it. The spectacle is quite adorable. What I can truly gather from a yearlong friendship with a dog is this: dogs are friends. It's one of the main reasons dog gravitated towards humans as early as existence tells us. We're creatures of habit, and so are dogs. We live off of knowing there is another creature who's kind-heart can fulfill our own hearts, without the possibility of talking back to us. (Does barking count as talking back?)
I will admit my heart stops beating when Alejandro's piercing bark echoes throughout the room, but this time around, I'm ready to welcome him with open arms.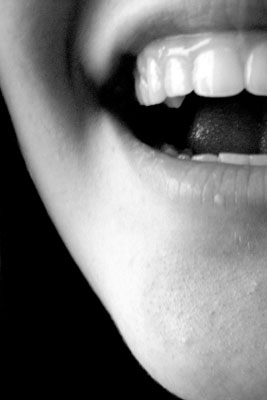 © Katya K., Westfield, IN