Pittsburgh: This is Not Who We Are
MAG
October 30, 2018
Can you do me a favor? For a second, picture an incredibly diverse community. A community with shops, houses, and places of worship. A record shop where I bought my first records – a shop found up a steep, narrow set of steps, and owned by the kindest man, Jerry. A pizza shop where, when I was 10, a man gave me a free pizza box so that I could make a board game out of it. A violin studio where I took lessons every week for five years, where two golden retrievers lived and a fall scented candle was always burning. Restaurants – Lebanese, Turkish, Greek, Thai, and so many more where I've been on dates, afterwards telling my boyfriend that I am "so incredibly full" and "couldn't possibly eat dessert," only to smell Waffalonia and run in to share a sugar waffle with Nutella ice cream. A Unitarian Universalist church near this community, where my family is welcomed every Christmas Eve to celebrate life. This is my Squirrel Hill.
On Saturday, October 27, 11 people were killed and Squirrel Hill was shot in the heart, as a man opened fire on the Tree of Life Synagogue in a violent, hate-fueled act. A man who hated 15 million people because of their religion, and specifically, because of their compassion for immigrants, entered the Tree of Life Congregation in my Squirrel Hill.
On Sunday night, I stood with thousands of Pittsburghers outside the Soldiers and Sailors Memorial Hall, which was filled to capacity. As I looked down at my rain-soaked boots, I realized I was standing on bricks with names of men and women who had died in our country's wars. Underneath my feet laid one dedicated to an unidentified soldier who died in combat in 1944. This soldier died in a war we fought against anti-semitism, against the very ideology that the man who shot and killed 11 people on Saturday believed in.
As I listened to those who spoke on Sunday, the overwhelming messages were of remembrance, sympathy, and thanks to the police officers, EMS, counselors, and countless others who had helped. But one message resonated specifically with me. One speaker read the words on the back wall of Soldiers and Sailors Memorial Hall, which are those of Abraham Lincoln's Gettysburg address: "that from these honored dead we take increased devotion to that cause for which they gave the last full measure of devotion-that we here highly resolve that these dead shall not have died in vain."
Only 10 months ago, on Valentine's day, students in Parkland were shot and killed in a different, yet still hate-fueled act. After Parkland, I took my first breath of political activism. I published a letter to Senator Bob Casey, Jr. on TeenInk,com, where it was noticed by my Senator's office, who asked me to interview him.
After the interview with Senator Casey, I thought that I had done my part. I had contacted Washington and published an interview. My letter was published to half a million readers. I walked out of my school, I started volunteering for a congressional campaign, I read a book written by Parkland survivors and I asked them questions. Midterm elections were less than two weeks away. The candidate I volunteer for was up in the polls. But mail bombs had been sent, hate speech at the caravan of migrants continued, and online, our President's rhetoric was mimicked and amplified.
Then gun violence spread and somehow it got closer to me. Somehow, my advocacy, inspired by others hundreds of miles away from me, hadn't shielded my city, and gun deaths and mass shootings approached closer to my home. There's a Latin word I want to use to describe the feeling. "Cingere," used in one case when an army surrounds another army and closes in, effectively "cinching" a group of people. This encircling and suffocation, this is how I view gun violence. When it was so many miles away in Parkland, it felt personal because it happened in a school, but comparatively, it wasn't. My writing following Parkland was urgent and necessary, but not intimate. But then the drawstring tightened on my city, bringing violence closer. Writing about my own city's pain is urgent, necessary, and terribly intimate.
On Sunday, I put together a care package to send to my boyfriend who is away at college. As I wrote the last line of my return address, "Pittsburgh, PA" and as I filled out my college applications later that night with "Pittsburgh, PA" I wondered what people would think. How would the mailman dropping off that package see my city now? How would the admissions counselor reviewing my application think of my hometown? Before, I knew they'd think of the city of Steelers, the city of bridges, the city of rivers, the city of black and gold, a city of steel turned clean. But now, do they think of a city of gun violence? A city of darkness? A city of anti-semitism? That is not who we are.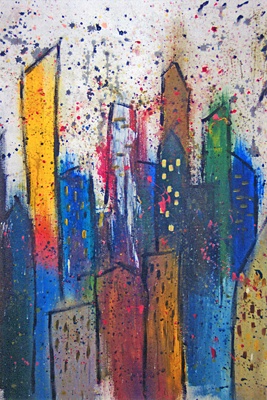 © Chase C., Centerville, OH