Blue Hens
October 29, 2014
University of Delaware, also known as "U.D.", has a 56.6% acceptance rate and amazing courses. Although this school is underrated and not given enough credit, it is full of success and promise. Well known for its Business, Engineering, and Social Science courses, University of Delaware is by far the best college for a "Delawarian".
Founded in 1743 and Represented by the school's notorious mascot, the Blue Hen; U.D. has been around for a bit of time. Over this extended period of time this school has had a chance to make a reputation for itself, thankfully the reputation of U.D. is a good one. Ranked as the 76th best college in America it has a decent title of prestige. This school is not an ivy league nor will be considered one, but it is the perfect college for an above average student with a love for campus life and an amazing education.

One of the things that the University of Delaware has to offer is its more than reasonable acceptance rate to "Delawarians". The ginormous leap from 56.6% to 65% for Delawarians shows that this college is very supportive of Delaware residents. The amounts of opportunities that are offered are nearly limitless once you are an attendee of this college. Full of many social groups and classes U.D has a lot to offer.

While walking down the campus you can feel the liveliness and warmth of the students. You will be welcomed with arms opened wide by plenty of considerate people. If you are fearful of not fitting in don't be, if this is true then you should be fine. I say this because this college's environment has a wide array of people that are more than willing to accept you. I would credit U.D. for being able to have a wide range of culture, style, and uniqueness. Because of this many scholars are able to enjoy their time when they are attending.

Memories and spectacular moments can be made if you live on campus at U.D. This school offers many opportunities of excitement for the 'average' attendee of this college. One of the highlights about U.D. is "Main Street"; located just a short walk away from the main campus. Whether you're trying to get clothes, a bite to eat, or just sit down and "chit-chat" with some friends at the nearby coffee-joint, Main Street has a lot to offer. This privilege of the typical U.D. student is a major plus if you think this may be the college for you.
If you are still unsure about the University of Delaware as the right college for you, go and visit. Tours are available on Mondays, Fridays, and Saturdays, during times that vary from 10am, 12pm, and 2pm. An exhilarating place to go to and many of opportunities offered, I believe the University of Delaware is the right school for anyone that likes a challenge and a "good-time".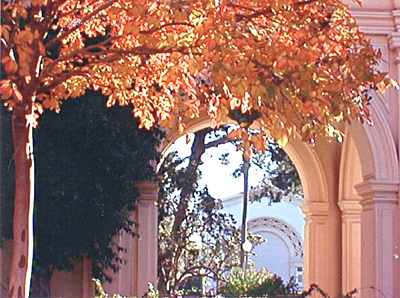 © Rachel B., San Diego, CA