The Life of a Half Geek
April 6, 2013
6:00AM. Time to rise and shine. Well, at the very least, time to rise. I start off the day with my monotonous morning routine of eating breakfast, brushing my teeth, getting dressed, and running out the door. After battling the morning traffic I reach my destination, Immaculate Heart Academy. I pull into the lot and head towards the school.
As I'm reaching for the door to the school one of my friends stops me. "Sara!" she calls out desperately, laptop in hand, "My laptop keeps going black! Help me!" Looks like I will be playing the role of tech support today. I take her laptop and get working. First I check its "vital signs." Laptop boots as normal, no unusual processes running. . . I shift with the laptop in my lap when "ping", something falls to the floor. I shift to find what has fallen, but as soon as I move the screen goes black! I search for the object that fell and find a small screw. This must be part of the laptop. I check the hardware and find that the plastic covering the hard drive is loose. That explains the problem! I find a screw driver and put the plastic piece back in its place. "All fixed!" I tell my friend ecstatically.
"Riiiinnngggg." Time for class. I sit through my classes and rush out the door when that long awaited end-of-the-day bell rings. I rush to beat the buses out of the parking lot and then cruise down the highway until I get home. Time for homework. I get it over quickly so that I can enjoy the rest of my night. Once I finish, I plop down on the couch with my laptop for some "me" time. I start off by checking my social networks. As usual, nothing interesting going on there.
Time to work on my latest project: turning an old laptop into a digital photo frame. I start working on the hardware aspect of the project. Who knew that one of the hardest part would be finding a frame thick enough to hold the computer components? After working on my project for a bit it's time for bed. I go through the inverse of my monotonous morning routine and get into bed. A good end to a great day.

This is just a typical day in my life as a half-geek. My life is a balance of technology and friends. By making time for both, I get the unique opportunity of learning how to help others with their computer problems and giving them the tools they need to fix their computers in the future. Walking my friends through simple solutions as well as complex ones helps me improve both my patience and my computer skills. I love helping my friends out and seeing them improve over time. I am a typical teenager in many aspects of my life, but I am a geek as well, and I love it that way.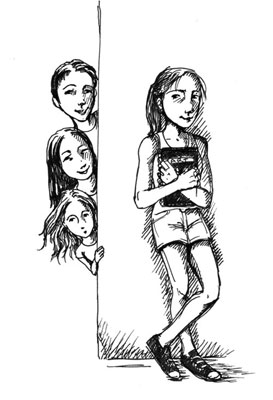 © Leonora J., Fullerton, CA