Man's Best Friend
November 9, 2012
I believe in my best friend because he is always there for me. He stays with me when I'm sick. He lies down and watches TV with me. If I'm feeling down, he'll run up and look me in the face with his big brown eyes, and when I acknowledge him, he rushes forwards and licks me all over the place. My best friend is my dog Baxter, and I believe in the example that he sets.

I believe in the way he treats others, how after we leave him for week when we go on vacation, he isn't mad at us for leaving him behind, but rather he jumps all over the place, going from person to person, trying to decide who to play with and say "welcome back!" to first. Likewise, when I get home from school every day I see him lying on the mudroom floor, and when he hears my key turning in the lock his tail starts thumping against the stone floor. When the key finally clicks in the lock and the door opens, he jumps up and runs for the nearest toy as fast as he can, to show just how much he missed us throughout the day.

I believe in the way that he treats, and cares for us. How he comes running at the sound of a sneeze, licks us to make sure we're ok when he hears our cries, real or otherwise, and how he vigilantly protects our home from the UPS man, our neighbors who go jogging, the school bus, and my sisters evil rip stick.

I believe in the way that he makes new friends, not caring if they are human or animal. He tries to say hello to everyone that we meet on our walks, much to our displeasure when that "person" is a car. He tried unsuccessfully to meet our cats for several months until he caught them by surprise and gave them a couple of licks in the face each. While they were and are not thrilled by the licks, they have come to realize that he doesn't mean them any harm.

I believe in the way he takes his rewards, the fact that just being with the family is enough and that all of the treats, toys, and other gifts are a nice added bonus.

I believe that we need to learn from our dogs, to stop caring about ourselves and start caring about others. How many times have we told our friends to "suck it up" when they get hurt instead of getting them a band-aid or a cold pack? How many times have we helped our friends when they are sick? We all could use a bit of "dog" in the way that we live our lives, and in the way that we care for those around us. I believe that man's best friend has taught us that we can be man's best friend as well.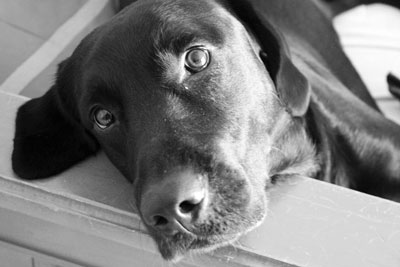 © Lindsay L., Snohomish, WA