Student of the Month
October 20, 2012
February 24, 2005
It was the last week of the month and it was finally time for my teacher to announce the name of the student who would be given the title the "student of the month. Along with my friends, I sat around my teacher Mrs. Connolly on the rough green reading carpet. I found myself surrounded by nervous and antsy running mates. Of course I wasn't the only one who had been looking forward to this announcement. I resisted my nervous habit of biting my nails.
Receiving such title came with that accomplished feeling. The feeling of happiness and gratification felt when you get an A on that paper you pulled an all-nighter on, that feeling you felt when you finally mastered the art of whistling. It was a sign that stood out. But at that time, it was all about the trip to the principal's office to recite the Pledge of Allegiance during morning announcements. It seemed to be such a privilege. So naturally, when my name was called, I squealed with excitement. It was weeks of practicing "4-219, Ji Won Kang, I pledge of allegiance...."under my breath during announcements, raising my hand every chance I got as a way to show participation, and receiving multiple 100's on tests paying off. My mind was taken over by the jumbled images: holding up the mic close to my lips, reciting our country's expressions of loyalty, and enunciating every word with the biggest smile on my face.
As I look at the pencil that I had received after my visit to the principal's office, I smirk at the tiny imprint that says, "My principal is proud of me" with a small heart attached at the end. To me, this pencil meant my goal was fulfilled. To be able to let everyone in my school know of my well prepared recitation and confident voice. My perspective of this award has changed since the time when I was obsessed with sparkly pens and Bratz dolls, but I still look back at this experience with the same pride that I had when I proudly took the blue and red striped pencil and the certificate. The title "Student of the month" holds greater significance now. February, 2005 marked the five month anniversary of my arrival in this country. My success was built by my strenuous effort to learn English every night after school and to never let the language barrier stop me from being a social butterfly. I realized that this momentous title revealed my always assiduous and persistent attitude for any kind of goal I set for myself, whether it be receiving 15 seconds on the school PA or even being the 2nd place winner at New Balance Indoor Track Nationals.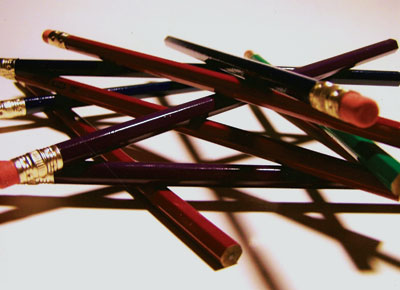 © Nicholas K., Weldon Spring, MO