The Smell of Potstickers
MAG
July 17, 2012
It's 1:51 a.m. and after scarfing down a bowl of wontons, I still cannot sleep. My mom has always said that having a full stomach helps you sleep. But tonight, I cannot shut my eyes or stop my mind from having loads of emotions. I am a high school teenager, moving on to be a freshman in college. Departure, homesickness, and excitement churn in my mind, making me bipolar. One moment, I am furious with my ­little sister, Katie, about her bossiness. The next I am crying about how I will be leaving my favorite person in the world: Katie. At night, I pray that God will help me sort out all of these feelings and make this transition a beautiful one, in which I ­absorb the best memories from my family in complete appreciation and love.

I do not want to leave my home. I love sleeping in my bed, the hand-drawn pictures posted on my wall Katie and I drew years ago, the Hello Kitty plastic dolls that I don't want my friends to see, and the comfortable space that I have in my bedroom (hello, dorm life in one month!).

I savor the soy sauce flavor of Chinese food and the aroma that fills my house whenever Grandma cooks pork in it. I enjoy having a crowded dinner table and the comfort of my family eating together. I love the different types of footsteps each member of my family has, some pounding obnoxiously and others with a ­direction and purpose each morning. I will commemorate dancing around in my backyard without a care and embarrassing myself in front of my family. I will miss the ease I feel when I am at home, allowing myself to sneeze without saying "Excuse me" and not always maintaining perfect posture. Most of all, I will cherish the memories created in my home and the presence of family members. The smell of each one, the sound of their footsteps, and our shared memories will be relived over and over in my mind.

Honestly, I do not know how to live when I am on this bridge that connects childhood and adulthood. I feel homesick even though I am still home. Although I am 18 and ready to be independent, my skin still feels waxy from drawing with crayons too much and my eyes are still attuned to anything from the Disney Channel. I do not want to let go of being a kid. Maybe I will never stop being one. I'll be called "one of those big kids." Who knows?

But what I do know is that I need to make the most of what I have right now. Three weeks is all that's left of homemade wontons and rice dishes as a year of cafeteria food and homesickness lie ahead. Time to go bake pretzels with my little sister.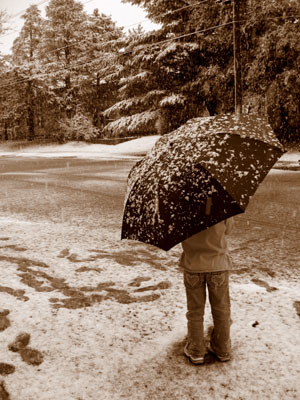 © Hui Y., Potsdam, NY