I Love My Mom
MAG

Ilove my mom. But it would hard to deny that I have been somewhat relieved tohave 2,000 miles between us since she moved back to Mississippi.

My motheris the bipolar product of an anxious Japanese woman and a stereotypical Southernman. Raised in the South, she was a teenage hippie, minus the politics and plus acountry-club membership. She and my dad (the product of a talented salesman andan immaculate housewife) moved from Mississippi to Hollywood in the '70s so hecould become a professional musician.

In sixth grade, my dad announcedtheir separation and divorce. It wasn't especially surprising, but I cried, andthen thought that living in two places might be fun. So, in seventh grade, everyweekend I'd either pack to go to my mom's apartment, or pack to return to mydad's - "our," he'd insist - three-bedroom Craftsman.

In ninthgrade, the sleep-overs at my mom's stopped because of one night that was anaccumulation of the dysfunction she thought she might hide. My mom and herlive-in "friend," Bobby, had taken me and my younger brother Scott outto eat on Valentine's Day, and my mother had one drink too many. Scott and I wereembarrassed enough just walking home with my mom and Bobby, but the balloons andflowers (his gifts for her) we had to carry and her wanderings in front of carsadded to our disgust.

We reached her apartment and my brother left torollerblade with friends; he understandably didn't want to be around that night.I left my glasses in the bedroom I shared with him and went to the small livingroom. My mom was sitting on the black couch with red eyes. She was a big sobbingmess.

"Why don't you have your glasses on?" she questioned,trying but failing to steady her voice.

"Um, I was going to take ashower," I said. I somehow felt I owed her an explanation.

"Oh.I'm so sorry," she said, tears streaming down her face.

"It'sall right," I said, slightly uncomfortable. I put my arm around hershoulders gingerly.

"No, no, I should be the one comfortingyou," she said, now completely weeping.

"No," Iargued.

"I called Daddy and everything's gonna be fine now. Go takeyour shower, honey." I didn't argue.

"I love you so much."Mom embraced me. I hugged her back, gently at first, then with more force. Iwondered what it was like to be her, who loved and mothered us, and indulgedalmost all our greedy whims.

"I love you, too." My eyes werebeginning to tear. Not wanting to push her further into self-pity, I held themback.

"I'm going to go take that shower now," I told her, gladto escape.

My face scrunched and I felt the need to cry. I thought aboutMom telling me she should be comforting me. I wanted to cry, but the tearswouldn't come.

Finally as I shampooed my hair, I cried, sitting with myback against the wall, my knees drawn to my chest as the hot water slightlysoothed me. And I prayed and thought about heaven, where I wouldn't see Momdrunk; no, I'd just see her happy and smiling like she should be.

A knockon the door interrupted my thoughts. Mom was saying something.

"Ican't hear you," I said, leveling my voice so as not to upsether.

"Daddy's coming over," she said. "So hurryup."

I walked into the living room again without my glasses and saton the couch, braced for another "family talk." My dad's voice wasgentler than usual. I was glad I hadn't worn my glasses, so I couldn't quite lookin their eyes.

I watched as Mom gazed at Dad somewhat adoringly. I blamedthat on the alcohol.

"It's just like Daddy's thyroids. He has to takemedicine. I have to take medicine or I have mood swings. I haven't had mymedicine in two weeks and it'll be a while before it gets back in my system. It'sjust like Daddy's thyroids," she explained, not tooclearly.

"Yes. And we, as parents," my dad spoke slowly,"want what's best for you and everyone involved, and think that -"

"Whatever the kids want," Mom interrupted.

"Asparents, we know what's best for them," Dad said calmly.

"Yeah, I know," my mom whined. "I'm being selfish rightnow."

"No, you're just responding to ... natural desires. Youhaven't seen the kids in a while, but they'll be able to visit you ..." Hespoke a while longer, my mom adding her two cents wherever she saw fit, while Ifought the tears now eager to spill out.

Soon Scott and I were restuffingclothes and books into suitcases.

"Bye, Mom," I said, huggingher tightly.

"Bye, honey. I love you."

"I love you,too."

"Bye," she repeated as I was almost out of thedoor.

"Janie, she'll only be three blocks away," Dadspoke.

"I know, I know."

But even though I might be threeblocks away, the mother I had put on a pedestal as a small child would be muchfarther.

"Bye, Mom. I love you."

Through the years, mymom has taught me many things, not so much through her words, but through heractions. I remember watching her bake cheesecakes, hem skirts, efficiently managedepartments at Macy's, and stand up for her children.

But I also remembermy mother twisting words so she'd appear in a more favorable light, spendingmoney she didn't have, choosing "friends" she correctly believed shewas above, and investing in weak pride because she lacked confidence in herskills, talents and future.

I remember my mother doing all these things,and I remember my dad explaining her childhood and early adulthood: her emotionalabuse, her drug abuse, her promiscuity and her avoidance of therapy and help. Iremember my dad reassuring me that I wouldn't "be like my mother," butI knew that before he said it. I enjoy life, its blessings and challenges, I amthankful for my abilities, and for the people in life who help where I am weak.

And I realize that the most I share with my mom is a knack for makingcheesecake, a talent for taking the wrong exits on freeways, gratitude for ourtime spent reading and playing together, and thankfulness for an always mutuallove.

I love my mom; that's never been hard, though it's certainly been astruggle to respect the woman who made so many faulty decisions that led to anearly hopeless life. It's still a struggle to think of my mother and not cryfor her, and want her to enjoy life. And because of these things it's tempting tothink life is unkind, but stronger than that temptation is the knowledge that myparents have always, and will always, love, cherish, support, and, in two verydifferent ways, teach their children what they can. Because of this, I know I'mtremendously fortunate.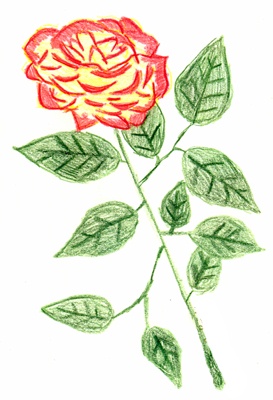 © Anonymous