A Difference in Opinion
May 28, 2011
The loose gravel of the hiking path crunched underneath our feet as our group from my paper-flat hometown gradually scaled a tall hill in the Marin Headlands Institute. Led by a camp counselor, we were an odd assortment of tired parents assisting their bedraggled children and bedraggled children assisting their tired parents. Despite the fatigue most of us felt in our untrained legs, we all continued. We'd been promised a beautiful view of the Headlands at a mysterious locale known as "Plateau of the Gods".

We were reminded of the Institute's appreciation for nature when the hike stopped so we could watch the way light refracted through a hummingbird's iridescent feathers and admire how rapidly its tiny wings beat the air.

Eventually, the gravel path faded and was replaced by lush, slightly damp growth. We made a few small leaps and found ourselves standing on the peak, what I determined was paradise. The other green hills spread out below us like a rippling blanket until they vanished seamlessly into the blue-gray water of the Pacific Ocean, gleaming in the late-morning sunlight. The peak we stood on, about the width of a large bedroom, was just as breathtaking. Plush grasses carpeted the open area in the center. Small tufts of violet flowers framed the edges and laced the roots of a small but elegant tree. The visual effect was so perfect that it might have been choreographed. Surely, this was the Plateau of the Gods.

At that moment, the counselor crossed the peak and pointed downward, "Here is the Plateau of the Gods."

Looking in the direction she indicated, I saw a large rectangle of concrete, a helicopter pad built during World War II when America used the Headlands as a military base. The unexpected disparity between the Institute's views of what deserved the distinction of a name and mine highlighted a change in my thinking brought on by the visit. Seeing the untouched natural beauty of the Headlands replaced my relative indifference toward ideas like pollution and global warming with an environmental mind I'd never known before.

That day our group ate lunch on the military relic. However, the next time I visited the Headlands, with my parents in tow, I rested on soft grasses, on the true Plateau of the Gods.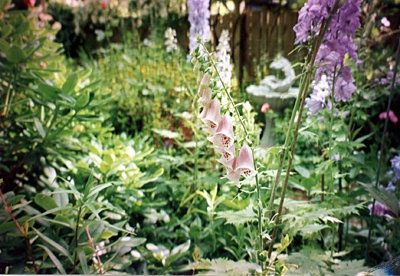 © Violet B., Phoenix, AZ