My Gifts
March 19, 2010
In sixth grade I skated without pads, breaking my arm for the third time. I received the gift of caution. It was caution that lifted my hand two years later to put on the helmet that saved me, when a car sent my bike and me to the ground.
In the summer of eleventh grade, two strangers senselessly punched me in the face. The unexpected assault gave me the gift of strength. It was this strength that led me to hold my head high when I saw those same strangers in my school lunch, led me to join an athletic team for the first time, and led me to give a controversial speech in public speaking class. All of my experiences have provided me with a gift that makes me who I am. In eighth grade I was forced to leave my home, my friends, and my country. Two years later, I was forced to move back to the U.S. Living in Barcelona, Spain has given me more than one gift, and I am only beginning to comprehend what they might be.

On July 15th, 2006 in the small town of Galesburg, Illinois, my father shoved my luggage, my pets, my brother, and me into a van. Crying uncontrollably, I flopped in a seat and peered out the window. My friends were standing in front of my house, each of their faces a reflection of my own. Even my house looked sad. "Probably because it's empty, just like me," I thought. Twenty-four hours later, I was peering out of another window belonging to a taxi in a different time zone. I stared at the large palm trees, bright sun, and wide sidewalks of Barcelona, Spain. I was homeless, depressed, lonely, and thus friendless that school year. However by the end of 9th grade, it dawned on me that only I have the power to control my life. Just like breaking my arm, I could receive a gift from this experience, if I so wished to take it. I am proud to say that I accepted the life-altering gift of independence in the summer of 2007. It changed me: I started getting up early to buy the newspaper with my dad. I showed a new girl from Austria around my school, becoming best friends with her one week later. I attempted broken Spanish with the woman who worked at the local bakery whenever I went to pick up una barra de pan, which led me to complete fluency. By the end of tenth grade, I loved the world. But even more, I loved how I fit into it.

By befriending people from all over the world, I received a sense of self. Going to an international school made me realize that I like being around people who are different than me, not similar. Having a diverse collection of friends prompted me to explore my own heritage. I realized that all of the times I had checked "Caucasian" in the little black boxes of standardized tests, all of the times I spelled my name Sylvia, and all of the times I frowned at my mom's salsa music were attempts to repress my heritage in an effort to blend in. Now, I celebrate the fact that I am one-fourth Dominican, one-fourth Puerto Rican, half American, and culturally, somewhat Spanish. I am back in Galesburg now, and I am Silvia Elena, a Hispanic-American who still spends her time reading, but also spends her time listening to European and Caribbean music, swearing in Spanish, and eating calamares (squid) like there's no tomorrow.

As I continue to identify the wonderful gifts from my life abroad, I realize that these gifts have a purpose. The wonderful thing about immeasurable gifts is that I can give them to others while still keeping them myself, by giving advice to friends, speaking of my second home in Spanish classes, and tutoring other high schoolers. Right now, I am in the process of another life-changing experience: I am choosing a future, a college. This process is full of self-doubt, excitement, anxiety, and hard work. And the gift from this experience? That is yet to be seen.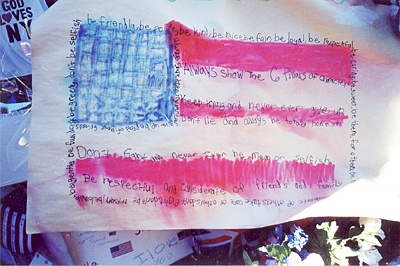 © Ashley F., New City, NY