"You've been told in order to write, you need to be inspired. That's a load of bull."
January 19, 2010
"You've been told in order to write, you need to be inspired. That's a load of bull. You have all the inspiration you need inside of you. Just unleash it." These were the words of my teacher, Traci, on the first day of my creative writing summer school. My first assignment last summer was to describe the journey that had brought me there, to L.A., for a four-week writing program. For me, the journey had begun four summers earlier, before eighth grade. That was the summer I decided to become a writer.
At the end of seventh grade, my English teacher gave me a summer homework assignment that unexpectedly changed the course of my life. His command was simple: "Write every single day." I moaned and groaned. Back then, writing was a chore. Nevertheless, I wrote in my journal daily for ten minutes as assigned. Slowly my ten minutes of writing became an hour. In my journal, I discussed the books I was reading, the ideas I had. I wrote short stories that continued from one week to the next. By the summer's end, I was addicted to writing in my journal. When my parents asked me if I had finished my chores, they caught me writing. I protested stealthily, "I'm doing homework. It's required." As my writing grew more prolific, I knew I wanted to spend my life with a pen in hand. The summer ended, but my journals continued. I still carry a notebook with me at all times in case inspiration strikes. Because of my summer journal, writing, which I used to find dull, became my greatest passion.
If I wrote an autobiography, my experience last summer in L.A. would be the second chapter of my journey as a writer. For the first time, I was surrounded by other writers my age who understood the frustration of searching for one elusive word, or the joy of piecing a plot together. Everywhere on campus, I could feel the hum of creativity in the air as we bounced ideas off each other. We were responsible for critiquing each other, while our teachers helped us improve our technique. From every assignment my teachers gave me— even the zany ones, like writing a dialogue entirely in slang or a poem using only the words from The Cat in the Hat— I learned how to grasp the fire within me, my passion for writing, and to channel it. I suffered from writer's block many times while at summer school because every day my teachers demanded new creative material from us, but I learned how to thrive under the pressure. With Traci's advice in mind, whenever I sought a burst of inspiration, I would examine my own memories, feelings, and opinions to find something to say. I learned to summon creativity whenever I needed it to fuel my passion for writing. And in the process, I found my voice— the unfaltering words in my heart that I can share with the world.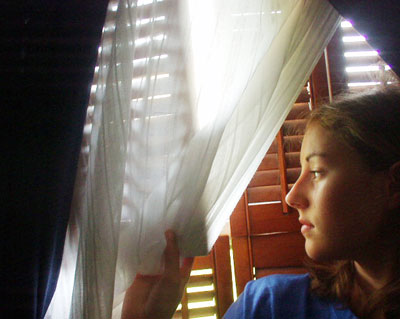 © Candace R., Mt. Pleasant, SC