The Eyes of Poverty
October 31, 2009
I attend one of the most privileged prep schools in the country and simultaneously live only a few miles away from one of the poorest cities. My mother works as a supervisor in that impoverished city, Camden, NJ, at an agency most commonly known as Welfare. My perspective, therefore, stems from a paradox of influences perhaps reflected best by our dinner conversations consisting of both destitute drug addicts and the latest high school gossip. This unique situation allows me insight into not only the triviality of my "problems", but also the extent of my classmates' ignorance about the immense issue of poverty.

It is all too easy for my peers to sit back in their V-neck sweaters and pressed slacks and exclaim about the tax dollars wasted on the nation's poor. Of course, these complaints come loudest from the kids who have not worked a day in their lives, whose Daddies bought them Mercedes before they could even drive worth more than what a welfare recipient might see in years. With each remark, I shoot back about the cycle of poverty, gang violence, addiction, disability, and mental illness, but inevitably, I end up bending my head and gritting my teeth in frustration. However despite these daily defeats, I continue to respond because I know something that they do not; that poverty has a name, a face, a family, and a story.

For a few years now, my mother has especially advocated for a particular client, a homeless paranoid schizophrenic by the name of Mr. McKay. Mr. McKay has a family and a very caring, albeit aging mother who calls at least once a month to ask if her son has cashed his Welfare check, an indication that he is alive. She also sends cards for every holiday and birthday, cards that my mother dutifully hand delivers to Mr. McKay in the soup kitchen line if she has not seen him in a few days.

Sometimes Mr. McKay turns up with a new bruise or gash, displaying to the world the immense impact his mind has had on his body, Though obviously suffering from overwhelming disabilities, he only receives minimal general assistance or minimal free handouts draining the country's resources as my peers would so adeptly put it. Luckily, Mr. McKay does not take notice; he sleeps under the stars, in the rain, with the gang bangers bothering him for the contents of his garbage bag, with the voices in his head.

I am fortunate enough to have had the unique pleasure of meeting Mr. McKay while volunteering at the soup kitchen one afternoon. Besides his gentle nature and gratitude, what jumped out at me about him from the layers of clothing and grime acquired from years of living on the streets was his piercing blue eyes, the same eyes that at an earlier point undoubtedly looked out at the world from a more functional and realistic perspective. I wondered then and wonder still if he experiences any moments of lucidity through those eyes and how he feels about what his life has become. I wonder if he ever worries about his mother who still has not given up on him or thinks about the teens sitting in their ironed clothes judging him and others like him in a prep school classroom just a few towns away.

Poverty is more than an issue of choice or work ethic, it is an epidemic plaguing a nation of damaged individuals who need help, not judgment. I believe that empathy and education are indispensable parts of this so I refuse to stop responding, loudly, to the ignorance spewed in my social justice class, on television, and in daily conversation because I know the victims so flippantly dismissed: the teen mother, the lifelong drug addict, the unemployed father, and the schizophrenic man sleeping on a bench somewhere in Camden. I think of their mothers sending birthday cards and calling the Welfare office, wondering if this time, they will be told by a harried social worker that their son is dead. I think of their faces, faces that could be anyone's, even yours or mine. I think of my own blue eyes staring back at me.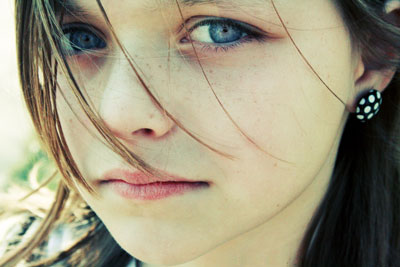 © Felicia R., Arlington Heights, IL