I'm-Possible.
October 4, 2009
In sixth grade, I wrote my first autobiography. It was a school project, in which I had to write about my life and glue on some pictures and artifacts. I put it together with enthusiasm, received an A, and filed it away on my bookshelf. I never touched it again. At least, not until now.

In the autobiography I had written, with my grade six vocabulary and probably below grade six E.S.L. grammar, "I think the most important person in my life are my parents. They are important to me because they taught me a lot of morality, how to respect people, to be polite, and help me when I am confused".

My shoe size has gotten bigger since then, and I'm taller than my mom now. Back then I had been dead set on becoming a musician. Back then, I had honoured my parents as the ultimate, coolest grown-ups who always knew the right things to do. My god, have things changed.

I guess growing pains aren't only physical. Apart from your knees aching and stretch marks, your brain also gets filled with more and more facts and lessons and secrets - some of which you can only wish never made its way in.

Ten years ago, my mother cheated on my father. Two years ago, my mother confessed the affair to my father. Ever since two years ago, my family has never stopped fighting. My dad told me he tries to forget my mom's mistakes, but he's always the first to bring it up, every night; my mom tells me that she should've taken the secret to her grave. As for me, I was stuck in the middle - wishing I had another home.

It wasn't until I'd interfered too much in my parents' fights, until I'd cried my tears dry, until I'd learned to forecast fights, until I'd completely distanced myself from my parents, that I'd realized that my parents' actions have nothing to do with me - that I was a completely separate individual, that I could be the light to brighten their darkness.

So I taught myself to let go - I showed them will-power and resilience. I never again cried after my parents' fights. I faced all my fears. I biked all the way to the library - wrestled through those miles with an aching knee, without complaints, to show my parents the true meaning of "i'm-possible". I forgave my parents for their mistakes, their arguments, and their fights, and I showed them how to be happy and make up after those arguments. I baked cakes, brought movies from the library, and did house chores to bring my family together again.

As Oprah says, "what you put in is always what you get back." My efforts were rewarded. Two years later, my family is more together than we have ever been. I think both my parent and I realized that problems are only as big as they are in our minds, that nothing can ever harm us unless we let it, and that we are the only ones who can control our life, but never underestimate the impact a small person can have on someone's life.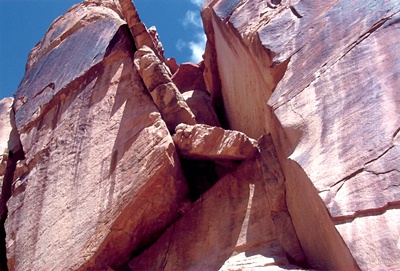 © Eileen C., Kingston, MA