Note to Self: Bloom
April 21, 2021
"I like the way you laugh," the note read. "You say that it sounds like a croaking frog, but I don't think so. It's nice. You should laugh more."
At this, I laughed aloud.
It wasn't loud enough for the whole cafeteria to hear, but my friends spared me curious glances. I hid my smile behind my hand, waved them off, and studied the note.
The words were slanted and sloppy in faint, blue ink; whoever wrote this did so in a hurry. I folded the Post-it in half and wrapped it around the stem of the white carnation. The anonymous gift was a part of my school's annual summer flower sale to fund the yearbook—a dollar for a carnation alongside a written message. In a way, it was a popularity contest: classmates would flaunt with carnations in their hair. Most of the letters were the usual: "Enjoy your summer!" or "Glad to have you as my lunch buddy." Few were as touching as the one I had received in the last weeks of my sophomore year.
Every day I would linger in the hallways between classes, eyes darting from one blank face to the other. It was as if high school were an overgrown garden, and I was a late bloomer, overshadowed by the mass of sprouts reaching for the sunlight. Everyone was talented and smart, and I was always playing catch-up. But the note was evidence that someone cared about me as an individual. In the thicket of students, I had hoped the nameless writer would notice my gaze. If they could notice my laugh, surely they would notice me searching for them.
But the note remained crumpled and unidentified at the bottom of my crammed bag.
At the start of our junior year, the flower sale rolled around again. Near the entrance of the cafeteria, a table displayed sample carnations and blank Post-its. I lingered beside it.
A student monitor met my gaze, waved me over, and offered me a pen. A transfer student, I arrived a year late to existing cliques. Though I reached out, it was without earnest conviction. The note offered hope that it was never too late and propelled me to write the words I'd long left unsaid in my head. I scribbled personalized compliments to my lunch buddies, to my homeroom peers, to students I've only spoken to once: "You're always playing great music during lunch. Share some song recommendations!" or "You were so thoughtful to organize study sessions for the group. I really appreciated it." or "Spotted you watching that new Netflix series on the subway. I've seen it too! Let's talk about it sometime."
It was a small but deliberate act of kindness. And it filled me with resounding pride. The classmate who blasted beats approached my lunch table a few weeks later. We exchanged our favorite artists and bonded over a shared songwriting passion. He spurred me to become a songwriter in the school production, and I prompted him to write album reviews for the newspaper. When we talk, I'd laugh with him, loud and clear. The carnation notes were conversation starters, and I was able to reach out to people I never would've met otherwise. Though they may not have made the year any less stressful, they made my day.
We are each other's supporters. Though the carnation routine couldn't continue this year, it is more important than ever to take care of each other. As students with ambition, we prioritize making a difference on a massive scale, but setting aside time to make a difference for ourselves matters just as much. For a garden to flourish, every flower needs to bloom. And if I can make someone's day, then I've made my own. I can't tend to every blossom in the garden, but I will do my best to cultivate my own, one carnation at a time.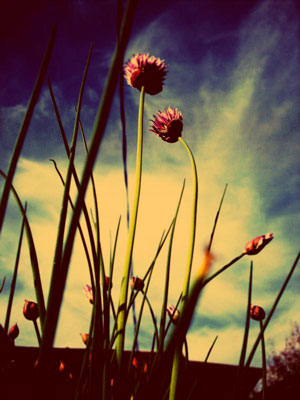 © Jessica P., Easley, SC