Dive
March 31, 2021
11 PM, an hour past closing time. Only the lights inside the pool are still left on, illuminating the gated area with an eerie aqua glow. Tonight, in First Colony Aquatic Center, there is only me, the buzzing cicadas, and the frigid winter air. I manage to sneak past the cleaning crew in the softly lit shower rooms, bypass the flock of ducks that have taken over the kiddie pool, and navigate through a web of scattered lawn chairs with only the waning moon as guidance. Typically, I would look forward to a midnight swim to clear my mind after a long day. However, as winter approaches, it brings with it my ultimate nemesis. Armed with only a latex cap and a pair of goggles, I brace for the ensuing battle against my final enemy: cold water.

Dangling my legs above what seems to be a bottomless pit of hypothermia and dead bugs, I reluctantly dip my toes in. The cold spreads through my veins, injecting them with liquid ice and instant regret. Wincing away, I settle for a walk around the perimeter of the pool to recover any lost heat. With each step, my mind wanders deeper into my most guarded emotions, searching for the reason behind my cowardice. But instead of an explanation, all I uncover is more and more frustration. Frustration for my tendency to go for the easier, less taxing option. Frustration with my urge to cling to what is most comfortable. Frustration with my lack of willpower when committing to a task. And despite my frustration, the possibility of giving up and going home still carved itself stubbornly into the back of my mind. The more I tried to escape this vicious cycle, the deeper I dug myself in.

Whether it be kicking off a new violin piece, going for a swim at night, or just leaving my comfy bed on a Saturday morning, I always freeze up in the face of cold water. And by far, the coldest water I've ever jumped into is the stage. From my very first piano recital at age 6 all the way till now, I've had to suffer through the moments before a performance where just one peek at an expectant audience is almost enough for me to succumb to my incessant thoughts of disappearing forever. But through performing, I've realized that nothing worth living for comes at an easy price. Because once I concentrate on the moments on stage, on the moments when I get to take all the beauty from the world, digest it within myself, and transport my audience through cavernous chord progressions and streams of ebbing melodies into worlds of my own creation, I gather all the courage I need to step into the spotlight, take a bow, and fall in love with the stage all over again.

Performing has helped me realize that what might seem impossible can turn out to be more rewarding than it is difficult. Rather than focusing on that initial patch of cold water, I've learned to instead shift my attention to how the gratifying applause of a successful performance overpowers even the most bone-chilling bouts of anxiety. Not just on stage, but in every aspect of life, I understand that there is more to my panoramic future than what's blocking a single camera shot.

Three seconds of bravery, a switch between two perspectives, and one deep breath later, I dive straight into whatever awaits me in Lane 8. Upon impact, my vision goes white, and suddenly I'm on stage, entranced by the blinding spotlight. The cold water welcomes me home, just like how the crashing waves of an audience encore have always spread its arms open for me. I'm half frozen, but all I can think about is how wrong I was to be afraid. How in the end, it's the coldest water that gives the warmest rewards.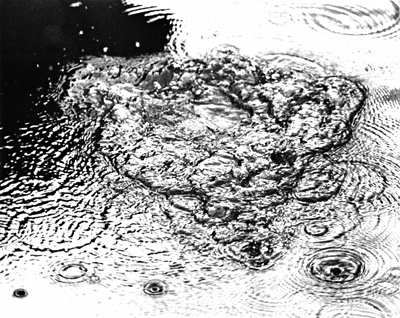 © Anonymous