Are We There Yet?
April 27, 2016
I stared at the clock with routine grogginess. Its stoic red digits challenged me, and we locked gazes for what seemed like eternity. Click. The minute digit changed from a nine to a zero, followed by a wake-up screech that could have been from a drill sergeant. The screech continued, and I rolled over with a grunt. I had learned to tune out the rhythmic reminder of my alarm clock three weeks into the school year.

I am now less than three months away from graduating, and looking back, a lot has happened since. People say that time changes everything. I would also say that lack thereof changes us, too. My time is running out.

I sling my backpack over my shoulder. Everyone around me is engulfed in conversation; talking about procrastinating on the math homework from last night, who is asking whom to prom, plans for the weekend, whether or not joining the new club is a good idea. In my mind, I just want to go home and sleep. I spot red digits in the corner of my vision. They seem to follow me, and this time they read "A Countdown to Graduation: 71 Days. 12 Hours. 52 Minutes. 28 Seconds … 27 … 26 … 25 …" This was just another reminder of my finite time in this place. Soon I will move on and graduate to college, where I will stare at yet another countdown clock in the lobby of yet another school.

Don't get me wrong, I love learning. People who know me know that education is "my thing." It's my day job, so why shouldn't I be good at it? However, since beginning my senior year of high school, my attitude has begun to shift dramatically. I'm the poster child for "senioritis," and where I have never gotten a "C" on my report card thus far, somehow I'm not too surprised that I'm weaseling by with low "B"s and comments on my interim such as "working below potential."
Pure learning is enjoyable and causes the brain to grow and wonder. But as a senior in high school, it seems the only point of my education are those digits that represent the extent of my learning capacity. I will try desperately to raise my history grade from an 87 to a 90, just to have that "A." But in reality, do I even know the topic well enough to represent an "A"? Do I even care?

I have turned into a child who has bought into the system. No longer do I care about gaining knowledge about an unknown subject. Now, I just want to graduate. I just want to have high marks on my transcript. Maybe, when I go to college, my mindset will change again. Maybe I will start anew, with a blank slate to my name, and take advantage of new opportunities to learn. Maybe.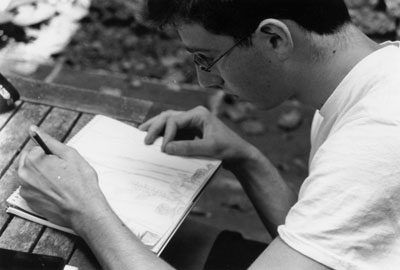 © Kira L., Bethesda, MD