College: Getting In
November 17, 2014
College is one of those things that teens are extremely excited about, yet incredibly afraid of. There are multiple processes that involve college and everything that it stands for. Getting into the college is the first.
As a high school student, you have to try to stand out. This isn't necessarily easy. Some people don't even know what that means. In order to stand out, you need to use all of the opportunities that are given to you. If your school offers five AP courses and your friend's school offer twenty, you need to take advantage of what you have. Colleges look at your school and figure out how difficult the classes are, how many AP courses are available and compare you to other students there. Academics aren't everything, though. Sports may seem like a big deal, but if you could be taking a class at your local community college, then they aren't worth it. Sports only matter if you are really good at them. You may think that sports show that you like being part of teams and that you are a leader, but there are so many other extracurricular activities that you could be doing. Mock Trial or a robotics team are just some of the many things you can do. Also, getting a paying job could drastically improve your application. As long as you try to incorporate your interests into everything you do, and never use the word passionate in an essay, you will be fine.
Next order of business: picking the perfect college for you. Picking colleges could get difficult. Everyone wants to apply to a known college. You could definitely do this, but you may not like it there. Imagine that you asked someone if you could marry them. You were so sure that this person was the one for you. You try to make yourself seem as attractive as possible and finally ask them, "Will you marry me?" And they respond with, "Let me get back to you in four to five months." This is what applying to college is like, but what that first person doesn't know is that you asked a bunch of backup people incase they said no. Let's say the first person said yes, but it turns out that the person was not a good match for you. College is exactly like that if you choose the wrong one. It's like living with someone that you can't stand and making you wish that you chose one of the backup people. You should try to research colleges before applying to them and, if possible, visit the campus. It is completely necessary for you to be sure that you want to go to a college before actually attending the school. Everyone will apply to a safety school, but no college is a safety school. The colleges on the bottom of your list should be called foundation schools. Your foundation schools are where you would most likely be accepted, but also where you might get a scholarship. The schools that you really want to go to are on the top of your list, but could also be some of the hardest to get into. That is why you have foundation schools, which set a level for the type of schools you will get into. Picking the right college to apply to is only one step in the application process. The actual application is next.
Going back to the fact that you need to stand out, college admission officers may only look at your application for fifteen minutes. That is why you need to impress them. Most applications look the same. The usual straight A's, list of extracurriculars and a couple sort of impressive things. The applications that are looked at twice typically have something interesting on them, such as extremely high grades or being the president of your school's associated student body. Your personal statement is one of the most important parts of the application. Grades and extracurriculars come first, but before the essay, you are just a bunch of numbers. The essay is what shows that you are a real person and have a true desire to achieve your goals. There is no real secret for getting into a college. The process is very random and very selective.You just have to believe in yourself and your application. Just hope that the admission officer looks at your application for more than fifteen minutes.
Some people think that college is what puts you on a path of success or failure, but it all depends on the person. Some very successful people dropped out of college and became billionaires, such as Steve Jobs or Bill Gates, but there is only a one in a billion chance of this happening to you. College is never the wrong choice. Whether you go to a private college or a community college is up to you. You make yourself.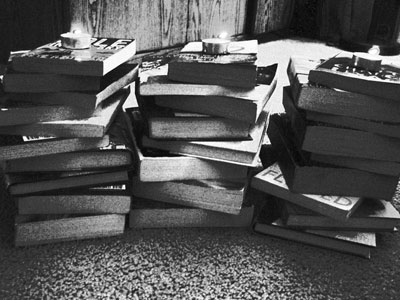 © Alexis R., Clarkdale, AZ