Work and Passion
February 26, 2014
It was the soft opening of the Korean restaurant known as Chef's Noodle. The board members packed the tables, eyeing the hastily assembled menu with a critical eye and carefully tasting the quickly made food. The workers stood nervously, knowing that their jobs depend on what the board members would say. The general manager of the restaurant, a tired, elegant, 41-year old woman, dressed in a black executive suit, quickly answered the board's questions and sated their curiosity, working hard to ensure that the members were satisfied. When the members left and the restaurant closed, it was already 10 PM. Haggard and exhausted, the woman left for home. Yet when she returned home, she still had responsibilities and had to continue to read proposals, write proposals, create presentations, etc., until 2 AM, which was when she could finally sleep. The next morning, she had to wake up at 6 AM to bring her son to school. Her name is Anthea Lee.

Other than being the general manager of Chef's Noodle, however, Lee also has other responsibilities as well. She is the Deputy CEO of a large NGO named the "Society of Rehabilitation and Crime Prevention, Hong Kong" (SRACP) that has more than 300 employees. Combined with her responsibilities caring for her young teenage son, many would consider it folly to load themselves with more responsibilities. However, Lee then took up an additional responsibility of general manager of Bright Services, a 110-staff social enterprise under SRACP that specializes in hiring ex-offenders. Chef's Noodle is just one of the five types of business under Bright Services and Lee manages it personally.

Since many of Bright Services' employees are ex-offenders, they tend to be unprofessional and often suffer from many problems ranging from low confidence to psychological issues. For example, the dishwasher at the restaurant suffered from anxiety disorder. The moment she saw that she had to wash a large pile of dishes; she immediately broke down, crying and claiming that she could not do it. Lee had to carefully calm her down, giving her support and encouragement. Also, the young supervisor suffered from low self-esteem and, when encountering problems, would always give up and want to quit. Just dealing with her staff gives Lee massive amounts of problems and causes Lee to often work long days, as well as weekends and holidays with little sleep. However, Lee continues to go on this path with passion and determination. "I believe that people can change and I will always give my ex-offenders a chance," Lee says.

Her friends and family always ask, "Why do you subject yourself to this?" In fact, she is a member of the middle class and her husband's salary is more than enough to keep their family afloat. "The reason," Lee says, "is because I feel passion and an obligation to help others."

Her temperament can be traced back to her childhood. Lee came from a grassroots family with 4 siblings. However, even at a young age, she distinguished herself from her siblings. "Anthea was always distinct from her three sisters and the younger brother. She was always the most kind and intelligent. She took care of all her homework and things and I had no need to worry about. Her teachers always praised her and were all fond of her," notes her mother.

Back in 1980, while Lee was in primary 2, she went with her family to China. At the time, China had only just opened its borders to Hong Kong. Lee and her family became stuck in the queue at the border crossing. Her sisters quickly started barging their way through, thinking of methods to smash through and get to the front. On the other hand, Lee said to her mother, "Why don't they just line up like civilized people? If they do line up, then everybody can have a fair chance! Why don't they care about others?"

Once, while Lee was going to school, she saw a beggar lying on the street, weakly asking for money. When Lee reached school, she asked her teacher, "Why are some people beggars? Why doesn't anybody help them?" The teacher replied, "Different people have different reasons. The most important thing is, however, that we don't just give them money, but we must understand their background and needs and teach them to help themselves." These words would influence Lee greatly in the future and drove her to pursue a career in social work instead of a job in commerce.

When Lee entered the Hong Kong Baptist University, she was in the Social Works Department. Many of her friends and family said to her, "Anthea, you are so beautiful and nice. Everyone wants to make friends with you. Why not consider being PR or a business executive?" Yet Lee was determined and continued to study social work. After she had graduated, Lee was one of the first batches of graduates to receive an employment contract from the social welfare department of the government. At the time, practically every student in social work craved such a contract due to how social workers in the government received a good salary and lots of welfare benefits. Yet Lee turned down the contract and joined an NGO named "Hong Kong Christian Service". Lee says, "Many of my friends and family deemed me insane for turning down such a good opportunity. Yet I felt that the government was too bureaucratic and I would have been unable to follow my passion, which was the whole reason why I decided to be a social worker."

Four years later, despite being employed as a full-time social worker in another NGO named "Hong Kong Family Welfare Society," Lee continued to study for a master degree in social works. She decided to specialize in gerontology because she anticipated that there would be lots of problems related to senior citizens in the future as Hong Kong's population was aging. While writing her thesis, she got married and soon became pregnant. Yet she continued to research and conduct multiple interviews. She also had to continue to travel to rural areas daily to visit children in foster care because of her fulltime job. "It was extremely painful and tiring," she says, "but I felt that it was necessary and worth it." Fortunately, Lee's husband supported her. "Anthea is indeed extremely busy, but if she feels that she can manage it and she chooses to do it, then I shall always respect her and help her in any way I can," Lee's husband says.

2001 proved to be an important point in her career because she started to change from being a frontline social worker to becoming a supervisor. When Lee was on the frontline, her power to change things was severely limited. However, as a supervisor, her authority increased and her passion and creativity manifested itself and she initiated many new services, such as the "School base After School Child Care Project," which was launched at five primary schools. It provided quick and important assistance to the community and generated additional revenue. She also led teams to develop projects with corporations such as IKEA, Philip Dental Hospital, Mannings, HSBC, etc.

Five years of hard work, dedication, innovation and passion later enabled her to join her current employer SRACP as a Business Director in 2006, advancing to her career to another level in senior management. Her continued efforts brought her an "A" grade every year in the annual appraisal, a stunning achievement. She initiated many things such as the first microfinance scheme for ex-offenders so they could start their own business as well as a volunteer development service. Because of her affectionate character, Lee successfully built up strong networks and close partnerships with multiple government officials, funding partners as well as multiple businesses so her innovative projects could constantly receive funding and support. In July 2012, she was elevated to the position of Deputy CEO in recognition of her passion and hard work.

Despite being unbelievably busy and burdened with responsibilities, Lee decided to continue studying criminology part-time. "Being a rehabilitation officer, I believed that it was extremely important to understand the minds of criminals in order to best know how to help them overcome their difficulties and become productive members of the society," Lee explains. Two years of persistence later, she was successful in gaining a Master of Social Sciences in Criminology. Due to her understanding of ex-offenders from her studies, she created 3 additional lines of employment in Bright Services, helping ex-offenders reintegrate themselves into society.

Although Lee has lots of obligations and responsibilities, she cares for her family very much, especially her son's development. While her son was a toddler, he would regularly have to stay in hospital 3-4 times each year due to his asthma. Whenever this occurred, Lee would always go to the hospital and spend the night with her son after work despite having to wake up early the next morning to go to work. "I also had asthma when I was young and I suffered greatly because of it. I knew what my son was going through at the time so I had to stay in the hospital with him to make him feel better and safer," says Lee.

Lee continued to squeeze taking of her son into her daily timetable when he started going to school. She joined the Parents Association of her son's kindergarten in order to know more about his learning. When her son was in Year One, his school told Lee how her son suffered from emotional problems. Due to this, Lee would regularly take leave to go to the school twice a week as a Parent Helper in order to help console her son. Sometimes, when her son was unable to get onto the school bus home for different reasons, Lee would put down her work and take a taxi from her workplace to her son's school in order to pick him up. Whenever her son appeared in a school performance or event, Lee would always attend it, often using creative ways to ensure that she could still attend without failing in any of her job responsibilities.

Due to the massive amounts of responsibilities resting on Lee's shoulders, many wonder how she is able to balance her home and work life. She is successful through the use of several ingenious methods. First, she splits the responsibility of taking care of her son with her husband. While her husband takes care of all academic subjects, she handles her son's mental health and social life. Also, whenever the SRACP or Bright Services organizes events on weekends, Lee brings her son along with her so she can spend time with him while her son learns about the work that she does. "In fact, every year," Lee said, "I always find some time during the summer or Christmas holidays to go with my son and husband on a vacation to another country." This helps ensure that she always can spend time with her son. She also does not have to worry about household matters as her mother lives with her family and supervises their domestic helper.

One day, if you ever come to Hong Kong and visit Wan Chai, you may find yourself outside a small black business hotel, with a sign advertising the existence of a small Korean restaurant. If you do so, then you must go inside. You will then find yourself outside a small but noisy restaurant jammed with patrons. Occasionally, if you look carefully, you may notice an elegant lady, kindly giving directions to her workers, sometimes spontaneously taking a role as the cashier or waitress. That lady is Anthea Lee, doing her mission.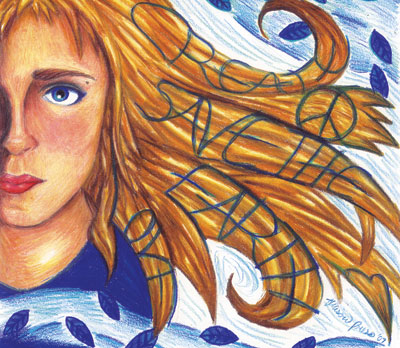 © Allison P., Chapel Hill, NC