What I Wish I Had Known
MAG
After going through the stressful process of applying to colleges, I have one thought: I am so glad it's over. However, I found there were a few steps I took that made the process smoother for me than what my friends experienced.

First of all, I started my research early, looking through catalogs and searching the College Board's website to find schools. When I had a list, I explored each college's website, looking at academic concentrations, reviews, and the schools' statistics and student profiles. I crossed off schools as I narrowed my choices. I would advise you to begin considering the type of schools you like as early as sophomore year - figure out what size school and atmosphere (urban, suburban, or rural) is most appealing, and what majors you are interested in exploring. Make a list that includes schools that are realistic fits with your GPA and test scores, some you can definitely get into, and a few reaches. Starting early reduces stress because deadlines won't be such an issue.

In your junior year, decide which teachers you want to write recommendations and ask them. If you wait, too many other students may asked them and they may not have time for yours. Ask those who know you well, with whom you have a good relationship, and especially those in your field of interest. It is best if the teacher has had you in class recently.

Visit as many schools as possible before senior year. Set aside fall of senior year to revisit schools that are serious contenders. Also, begin applications the summer before senior year, leaving the fall to perfect them. Share your essays with parents, teachers and peers. The more feedback, the more ideas you have to work with for revisions.

Once you decide to which schools you are applying, create a grid with each one's specific deadlines, including the application itself, recommendations, financial aid applications, and anything else the school requires. Be sure every part of the application is represented on the chart and check things off once they are mailed. (Photocopy each item, too, so if it gets lost, you don't have to recreate it.) Get everything in on time. If you apply using the Common Application, make sure you complete any necessary supplements a school may require. The Common App can save time as long as you complete every portion.

After all your applications are submitted, relax. There is nothing more you can do now but wait. This can be terrifying, but stressing out won't solve anything. Enjoy senior year; worrying about applications is not as much fun as spending time with friends. Remember: you will be accepted somewhere.

The three biggest pieces of advice to remember are start early, be organized, and relax. Good luck through this important time finding the perfect school for you!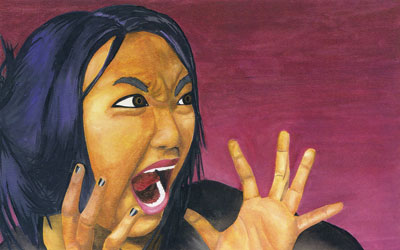 © Lauren S., Forest Hills, NY