Junior Year Blues
MAG
So here I sit. I've finished everything: Spanish, English, and, yes, even my geometry homework. After all the sweat and tears I've poured into these four hours of homework, I can finally say I'm finished, or am I?

I am beginning to realize that by next spring I will be released as a citizen into the free world … and I think I'm done? Ha!

For those who don't know, a college application is what decides your fate between glorious acceptance or a vicious and undeniable rejection. Colleges look at so many things these days including your GPA and your extracurricular activities. I've made it my personal goal to do as many activities as possible to dazzle and amaze any college.

This is my junior year of high school and, to tell you the truth, I don't have many options, not to mention time. Two years is all I have left to make a big difference in my future by getting into that oh-so-wonderful dream college I have yet to find.

One of the things I've done this year is join the Key Club. As some of you may know, this is a volunteer organization for teens who want to help the community. What better way to stand out on a college application than by doing something I like: volunteering.

I am also enrolled in a technical preparation program to help me gain experience in the teaching field and, at the same time, earn college credits.

Think I'm done? No, not exactly. For the greater good of my college application, I've forced myself to surrender my much-loved theater class and take Spanish instead. I say this bluntly because colleges like this too. Supposedly, two years or more of a foreign language will make you a stronger English student. Well, I've been in the class two or three weeks and all I have to show for it is: "Me llamo Carmen, mucho gusto. Soy de los Estados Unidos. Hasta luego." If you're sitting there with a dumfounded look wondering what I just said about Eggos, just imagine my reaction when Señora came into class speaking full-blown Español. All at once I had the urge to run out the door and far away from this strange and foreign language.

Also on my plate are scholarships, contests in order to win those scholarships, and a mound of other activities for my sacred application. Where can I find time to breathe, you ask? Since I don't have study hall, I breathe at lunch. If I didn't have that, I would probably turn blue from the lack of oxygen in the packed halls of my high school.

People have told me to slow down, take it easy, and that I'll have more than enough time to do everything. But if I get it all done this year, my senior year will be filled with lots and lots of oxygen and the much-anticipated college acceptance letters. (Yet another thing I need to do: Find that dream college.)

For now, all I can do is raise my hand and hopefully ask "May I use the restroom" in Spanish with the correct pronunciation. With my luck I'd probably say something offensive to Señora and be kicked out of class.

Then again, who ever said it was going to be easy?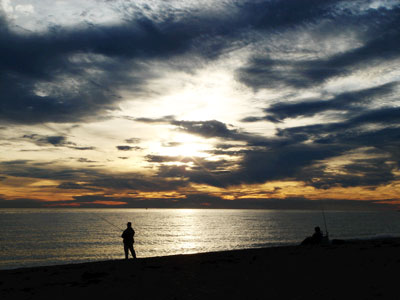 © Sarah C., Hillsdale, NJ