Don't be a Bystander
June 12, 2018
A new student has just moved into my school recently. He started getting picked on when some other students heard some rumors about his family, and now after watching him for a few weeks, I have noticed that the picking has turned into a harsh form of physical bullying. I'm not sure what to do about it, and nor do my friends. I prefer to stick with the flow as I know what will happen to me if I don't follow the other students. Bullying is a somewhat of a big problem at my school, and no teacher or supervisor has done anything about it. What should I do about this and how can I help when I'm so self-conscious?
Anonymous Bystander, Virginia
Dear Anonymous Bystander,
Bullying is a topic which shouldn't be taken lightly. You never want to be bullied, knowing that there's someone who is watching everything happen, just standing there, doing nothing. I know I'd feel terrible, especially knowing that it can take just a single voice to confront and stand-up to the bully.
You don't want to make him feel bad, or alone in this situation. Put yourself in his shoes and look at his situation from his point of you.
Have you told any other adult other than a school official? If not, take it up with your parents or another trusted adult. It always necessary to let them know as soon as it happens as it can cause larger problems in the future. Maybe then when other adults talk to the school officials, something will be done about it.
If it's your self-consciousness that is holding you back, you can try befriending him first when the bullies are not around. Or you can just simply partner-up willingly with him in a class you share. Either way, it will make him feel good. My now, best friend was a victim of one of the bullies at my school. She was an exchange student from another country and was bullied for varied reasons. I was in a similar situation as you are currently where I wasn't sure what to do about the increasingly growing problem, only watching as it all happened. I talked with one of my childhood friends who gave me advice about what I could do to help. He gave me the same advice I have given you.
Consider looking at the situation from the victim's perspective and try to understand what he is going through. Always remember to discuss this with a trusted adult or family member and propose them to talk to the victim's family about if anything else can be done other than what has already been tried. At school, you can try talking to the classmate about how you can help him possibly and become his friend. At a time when the bullying gets worse and worse, people need to talk to someone, someone who cares about them and is willing to stand up for them. Never try to do nothing. As a bystander, it may seem as easy as walking away and not doing anything about it, but to the victim, it can feel like being trapped in a dark hole with no way out, whatsoever.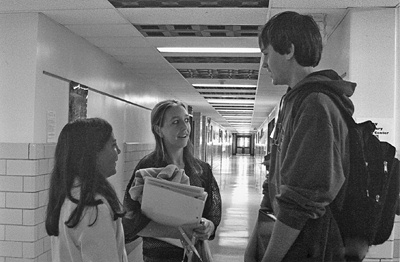 © Kathryn K., Pompton Plains, NJ