Tupac Shakur
December 4, 2019
Have you ever felt like you had no one to relate to or that no one understands your situations? Most times students were taught about MLK or Mandela but have you ever thought about learning about someone who relates to most youngsters, who understands your situations because they were there before?

Students should study Tupac Amaru Shakur, because he was apart of our society that we live in today. He was an impact that made youngsters realize the world and society that we live in. He was the guy that changed our perspective on the phrase T.H.U.G L.I.F.E. He was the guy that did what he believed in. He was the guy that went for his dreams. He was the guy that left a legacy. He was the guy that wrote poetry. The guy that raps. The guy that had a duality. And most of all he was just a normal person like everyone of us. But the only difference is that he did a change, he believed, and he said what was needed to be said.

Tupac was more than a thug because, although he was in a gang and did lots of bad things, he still cared, he wrote poetry, he read books, and he wrote songs. Dyson states," With big beautiful sparkling eyes came up behind me quoting lines by heart." That shows that Tupac loves doing good things and that the good side of him does not contrast with his bad side. That is why Tupac has a duality called Thug Angle.

Recklessness and fearlessness Tupac had, it made him who he is today. And I personally think us as teens, like to have that feeling where you are on top of the world. And that nothing can stop you. That is what makes Tupac relatedtable for most teenagers. But one thing us teens can never have the guts to expose and let others help us is our problems that we have at home, school, work or emotionally. Tupac seems to not be ashamed of his problems he exposes them through speech or his music.

Tupac is the definition of reality check. Why? Well it's simple, not only can people relate to him, people have gone through what he has through, the recklessness, fearlessness, music, background, etc. We all can relate to him because we have our own fights and sometimes we lose those fights and it's what brings us down. "Everybody's at war with different things. I'm at war with my own heart sometimes." - Tupac Shakur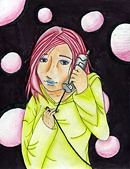 © Emily M., Milford, CT