Of Freshness, Newness
July 25, 2013
As we were in a moment's serum
Along the meadows of our dreams,
You whispered me of Fermat's Theorem
And I to you of Roman memes.
I thought along of freshness, newness,
Describing those kneed-down absurds,
For naught is new under what noon is:
We're chained as wingèd walkless birds.
To call one perfect is taboo, and
To sing imperfect is a sin.
Retreats the poet to his room-land,
Expels cliché won't let it in.
You though reverse, and so I write
With fresh and new your brain to spite.

The sweet fruit salad of your face,
The twinkling blueb'rries of your sight
Are caught in custard's cream embrace,
Two apple slices twixt two bright.
Your gentle, silver archèd ladle,
A roadway to my sacred cross:
Two rasb'rries on a loving cradle
Cut through and saved by ruby moss.
(Your waterfall of chestnut hair
Won't fit at all my scheme divine;
There are two pears that my cooth air
Can't praise aloud with my kind mind).
You are my cloud in plaided skirt:
Too perfect for my verse too curt.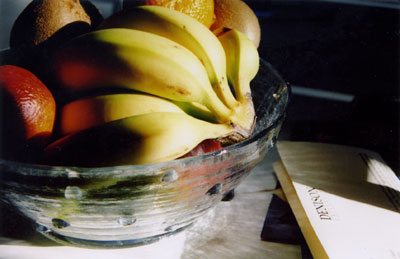 © Marty H., Bethesda, MD