Refuge Tree
February 8, 2012
Come live with me and be my love.
To view our life from above,
Let's rise beyond the teeming crowd;
Hike the tree whose top clouds enshroud.

Beyond sight of curious eyes
Never again forced to goodbyes
In this green peak we'll make abode,
Where earthen qualms are ever slowed.

We'll lean against the ancient bark
Refuse to share our private park,
Where we deeply inhale sweet air,
And let the breeze tousle our hair.

Through branches will echo our song.
From foliage, birds join along.
Surely the boughs will guard from storm,
As our arms shall guard from souls torn.

Should time pursue us even here,
We'll break his chains of mortal fear.
Together observe sun rise, sun set
And speak with words time can't forget.

Pure heart gives my invitation,
Dear, away with hesitation.
When you desire to grasp chance,
Reach high and grab a stable branch.

I'm waiting for you at the height,
Where heart in heart we'll take delight.
Come be my love and live with me
Forever in our refuge tree.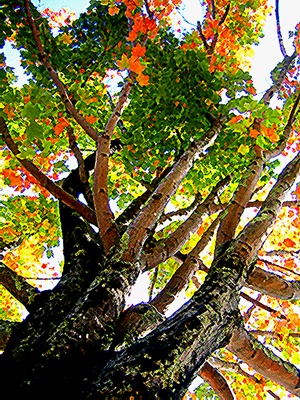 © Kathryn R., Shelby, NC