What a Birthday Surprise!
April 14, 2012
Now the time has come
To give readers a little thrill,
To overflow the emotions,
To make the heart of feelings fill.

Long long ago, Marie and John
Lived in a bamboo house.
The sister and brother lived alone
Neither mother, nor father, nor a spouse.

"Morrow, O my precious heart!"
Giggled Marie to John.
As she wished him on a chilly day,
The cold sun had been switched on.

"Love you, O my sister!"
Responded the tender John
"What's special today?"
As a vestige of surprise hovered upon.

"Nothing at all brother"
Satiated Marie John's thirst.
But deep down the bottomless pit she knew that,
It was John's birthday first.

Secondly, there aunt was about to come
And this was kept latent from brother.
It was going to be his best birthday,
The preparations had to be carried further.

John departed to the factory
Waving a pleasant good bye.
There was a long way to go
Do you know why?

Preparations here, preparations there
The house had to look glamorous.
After all it was a special day,
And of course it should look tremendous.

Amongst style, glamour, glitter, everything
Precision and accuracy are the best.
Aunt arrived at her scheduled time
Marie greeted her and did the rest.

The aunt brought the whole food factory
Chips, biscuits, snacks and wine.
And the most crucial a chocolate cake,
All was fit and fine.

Both of them joined hands,
And did the task exceedingly well.
Happiness and joy spread all around
And enabled the ecstasy to swell.

Flooded with excitement,
And enjoyment and huge fun.
"what can we do with this?"
Grinned the aunt while pointing a bun.

Both of them were brimming with delight,
Awaited laughs, talks they made.
Shouts, chaos, exhilaration filled the sweet home,
The melancholy void genuinely did fade.

On other side there was something wrong
Something going to make the world topsy-turvy.
"Take this, your first salary, John"
Said John's boss, Curvy.

Getting a handsome money in his hand
Was beyond his wildest dreams.
What struck his pacified mind the first
Was to buy two ice creams.

Embedded in his sweet dream
And walking too hurriedly.
At once he glimpsed a timid kid
Trying to cross the road rudely.

His parents were shouting at the other side
Screamed, yelled and turned terrified.
They didn't know what to do,
As the traffic suddenly multiplied.

The kid, entangled in his own thoughts
Unaware of what was happening,
Rushed the road like as a horse and
A car came in the speed of lightning.

At once the reflex action in John operated
His mind and heart screamed to save.
Within a fraction of second,
Sprung John who was too brave.

He rose, pounced, ran, leapt
Towards the docile tiny tot
And his mission also accomplished,
And there was also something that he got.

Here the clock struck five
A plastic bird appeared and serenaded tick tock.
The whole work was neat and clean
And rapt Marie put on a pretty frock.

It was the time of John's arrival
How much were they keen.
Their expectations about the surprise were endless,
As they picturised in their brains the thrilling scene.

Each second now passed like an hour.
They gazed at the items that they had bought.
"When will John come", "When will he come"
These are the only things they thought.

Lastly the doorbell rang
Long awaited moment arrived.
Hilarious Marie and aunt opened the door
"Happy Birt…" they minstrelled but suddenly cried.

In front of them was a blood curdling scene,
As two muscular men stood.
With a highly injured body that they held.
The environment was not any more good.

"It occurred in an accursed car accident"
The smaller one out of them cried.
The corpse was clothed with bloody blood.
Another told everything about how the person died.

What a birthday surprise it was!
Morosed Marie fell down, her heart shattered
All the glitter and sparkles faded.
Marie broke into pieces that scattered.

The birthday party was transformed
Into a fathomless melancholy.
The cremation ceremony was on
May Almighty give peace to the body that was holy.

The hearts after getting hurts sank
What compelled the person to arrive at such a low rank.
The void, the emptiness swallowed Marie and aunt.
The grief, the gloom, the pain went on and on and on.
Do you know who was the holy spirit that succumbed to death?
It was the unfortunate, unforgettable and the poor John.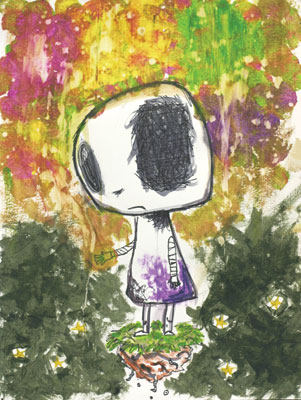 © Ashley W., Port Charlotte, FL