Words
May 29, 2017
Their words are powerful
They can hurt.
They can beat you down until you feel like nothing.
But we are human. 
We learn to deal with the words…
We build a screen. 
A screen to only let certain words in. 
The ones we want to hear. 
But sometimes the cruel and unbearable ones are too sharp to be ignored  
And they slice through that screen. 
They get in our heads… and the words begin to build a wall
One so high it is almost overwhelming
And when you close your eyes you can see that wall climbing higher and higher, until one day, that wall disappears… because you start using your words. 
Your words are powerful. 
They can stop someone else from getting hurt. 
They can wield swords to defend you, but most of all, they can change someone's life.
I don't know if the power of words can be described.
But I do know that we were all given a voice for a reason.
And let me tell you something. 
Our opinions DO matter.
Use your voice to be the change that our world needs,
And always remember that We deserve to have a voice because we were not made with a fire burning inside of us, just to let it be put out.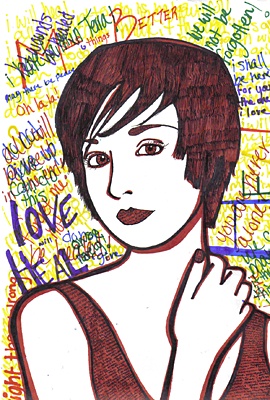 © Sara D., Aiken, SC