Transhumanist
June 14, 2013
I've had enough
Of this fish-eat-fish world.
I'm heading up and out
To the riverbanks,
Testing out my fins
And lungs.

The new world
Is greater than any of the
Sharp-jawed, armored behemoths
That still swim in the seas
Could imagine.
They ridiculed me for trying;
Why waste effort evolving wrists
When you could have steel-clad skin?
They'll never know how wrong they are.

I've made it, gulping in the air
None like me have ever breathed before!
Here I am, a pulpy mass on an infinite beach;
The chill wind stings and dries my skin,
But I'm here, and I'm alive!

And I'm not going back through the river, to the sea
Where the rat race still rules supreme.
Power and size write the ocean's laws,
But my prize is the whole unspoiled world,
Where I will build my future with my own teeth and claws!
Long before me, the sea's currents whirled
Gelatinous beings out of some volcanic fissure seam;
Wasn't this their dream?

To those who suppose I'm a mad fool for trying,
Know that in the coming eras I'll be prying
Into secrets this earth hides from those in the sea.
For all those who agree to crawl from the waves with me,
I commend you; for the others obey as these primitives converse,
But they couldn't keep us from our new universe!
It's open to us, within the reach of each fin.
Now is the time to evolve again.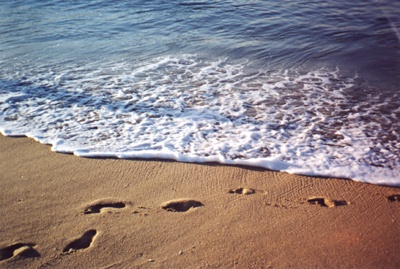 © Daniel M., Phoenix, AZ