Her Only Love
April 3, 2013
She liked to dance out in the rain,
said it made her feel clean.
It took her back to the times of mommies and daddies,
of times where she wasn't alone,
though she sold her company when tough times took hold.
"Where's Isabella?"
She liked the feeling of being pretty,
and not of feeling old.
"She can't be!"
Twenty five, thick red hair,
and a smile sweet as spring.
"Why would she do that?!"
But she had a secret,
one as dark as the night of which she lived in,
becoming a common with all the other shallow monsters,
of which preyed on the innocence like her.
There was no Heaven of which she was seeking,
somewhere at the end of her needle.
"I loved her! Oh mommy I loved her!"
The imminent grave of which is waiting for us all,
drew just ever so closer with every injection.
And when it finally stood before her,
she smiled.
That sweet smile, the one that could break the Winter's curse and dry the tears of a motherless child,
"No mommy, no! She isn't! Maybe we can just take the bad stuff out of her, can't we?"
now dazzling before the very eyes of Death itself.
Lying back against the wall,
listening to the cries of the lost.
She closed her eyes and waited,
waited for the end.
All the tears she had shed,
all the blood she had bled.
It now meant nothing, nothing,
as she laid dying,
alone.
When she felt it finally happening,
she whispered of but a small farewell,
"Goodbye, Elise. I love you."
and departed, leaving behind a mother who didn't love enough to save her,
and a young sister who would never understand.
"Mommy, why didn't we help her?!?!"
Years later, a lone figure stood huddled in black,
at a small grave.
It was cold out,
but she didn't mind.
She had to do what she needed,
it was finally time.
Kneeling down, peering into the ground,
of what contained her dearest sister,
she found that she had finally been able to forgave her,
forgave her for the pain.
Placing a kiss of love on the tips of her long, graceful fingers,
she gently placed her hand on the grave.
"Goodbye, Isabella, I love you."
Then she got up and walked away.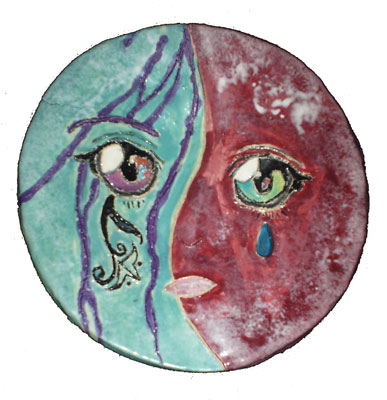 © Angel V., Tecumseh, MI