If I were your grandmother
MAG
February 1, 2013
If I were your grandmother,
I'd tell you not to do that,
I'd shake my wooden spoon at you,
and my head at the ruin of your generation,
but I'd still give you the first two cookies,
even though they're still too hot
and the chocolate runs.

I'd be a no-nonsense grandma;
there's too much nonsense in your life.
I wouldn't let you mess around with me,
no ma'am.
Not with that attitude,
no ma'am.
I'd reach out with my righteous spoon of justice
and smack your pride right in the kisser, I would.
Pow!
I would hold you in my grandma arms,
taking you in my aged embrace
and I'd set you upright with a cup
of chamomile,
for your stomach,
so you don't get ulcers,
and to help you to sleep,
and for your complexion.
And your stuffy nose.

I'd listen to you over dishwater,
over pancakes,
over coffee and cream,
blankets and books,
over vomit and tears,
taking the force of your words
in nods and blinks and moments.
You wouldn't have to ask me not to judge you,
no, I wouldn't be that kind of grandma.

I'd teach you the sort of things you need to know,
the sort of things grandmas need to teach their granddaughters,
like mischief-making and difficult honesty,
like how to skin a rabbit
and how to hold your drink.

I'd be your shoe – I wouldn't tell you where to go but where you are.
I'd be your pencil – I'd rub off on all the beautiful wisdom you write.
I'd be your anecdote, your cross-stitch pillow, your headstone picnic spot.
I'd be all sorts of things for you.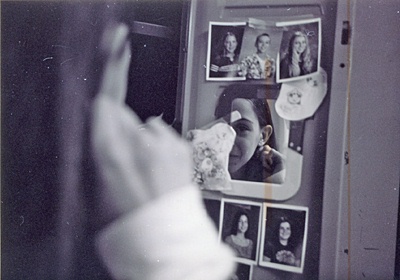 © Kaleigh W., Pompton Plains, NJ