Embarrassed!
October 13, 2012
Months later, I still had that scar
bold, red, jumbo, it was all on my face.


Walking into the first class in my new school
my lungs began pounding against my bones.


All I could see was a stretching aisle,
a teacher at the end, and eyes glaring at me.


My blood boiled,
and my skin turned crisp.


I reached to feel my hair as a slick beauty
only to find a poof of dry spaghetti strands.


I looked out to the middle of the large room
to see a girl with a skirt to her upper thigh.
Her face showing all her glimmering teeth.


Inside my heart broke-
outside, I squint and smile.


Plunging for the ground
It was then,
I saw full bare legs.


It was only then,
I heard an echo.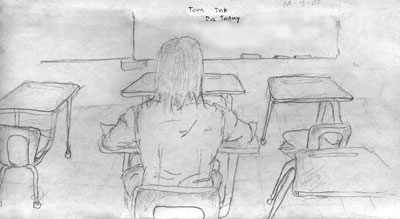 © Christopher M., Dededo, GU