Only Five
May 23, 2012
Shopping for
shea butter hand cream
and new plaid tablecloths
isn't really how most kids
wish to spend their time.
But my marvelous mother
dragged me everywhere with her
like a stray Shih Tzu.
I tagged along
when she went to the cleaners,
the mall,
and even Walmart.
What's there to do at Walmart?
Yeah, I didn't know either.
I was five.

One day,
while she was sniffing
colorful candles in aisle six,
I snuck off.
I didn't know where I was headed.
All I knew
was that I didn't want to be there.
At Walmart.
With nothing to do.
I was five.

I took spacious strides
and garnered a few stares,
but no one said anything to me.
I didn't look lost
or scared
or helpless.
I was just glad
that I wasn't standing around
waiting for my mother
while she took two hours
deciding between red or blue décor.
I was five.

As I strolled towards
the back of the giant store,
I spotted Barbie in her red convertible.
Ken was right next to her,
with tickle-me-Elmo
and Buzz Lightyear
on the shelf above their dream house.
Jackpot.
I was five.

I don't know
how long I stayed in that toy aisle.
But I didn't want to leave.
That was until
the intercom above my minuscule head
raucously boomed my name.
Of course I knew my own name.
I was five.

The intercom repeated my name twice before a teenaged employee
in a loose red shirt
found me
and led me back to my hysterical mother.
Now everyone was staring at me
like I had bacterial-fungi
growing out of my head.
I was five.

My parents almost killed me that day.
I wasn't allowed out of their sight
for the next six years of my life.
But can you blame me?
I didn't know any better.
I was only five.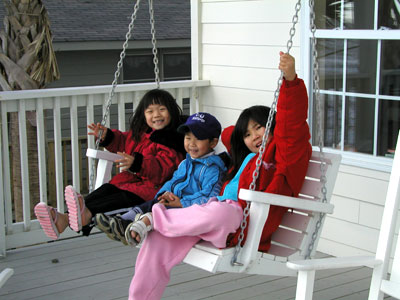 © Annie Y., Northborough, MA