A Blanket of Red
April 23, 2012
Your blood,
red, thick, deliciously thick,
crawled out of your eye
as a single tear.
It ran down your cheek,
leaving a faint path
reminding you of
where its been.
It reached the corner of your mouth
and as delicately as you could,
you licked it up,
you tasted yourself.
Your tongue,
now coated in a blanket of red,
went back into your throat.
You told me it was normal,
and you told me to try it,
so I waited for you to birth a new blood,
shaped like a perfect teardrop,
thick and red--oh, so thick,
and I gently, so carefully,
gently kissed it away.
And now my lips taste like you.
Sweet, sour, metallic...you.
And no matter how many times I swallow,
you are still a lingering taste on my tongue.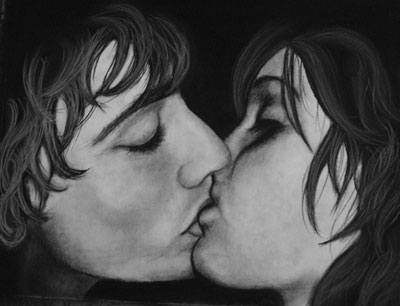 © Anna Y., St. Robert, MO