What else can I do
February 5, 2012
Being friends with you is not enough for me
Playing my roles, behind the lines waiting carefully
Sending Messages through the vibes and tones of my body
Saying words that mean nothing.
But my face says more and all
Smiling at your jokes, crying for your pain
Making up stories just to keep me sane
Trying to respect your opinion and judgment
But I know better. Discovering that part of you, unseen from reality
I hope that you think of me day and even night
I'd definitely return the favor
Not for your pleasure but mine
Putting my heart before my mind
Running before I actually knew how to crawl
Hiding from the one thing that makes me smile
And yet, I cannot seem to remember
How I turned my back on you and shoved my foot up your ass
Crying every time you said my name
Yet you honestly do not truly know my pain
Understanding my place and knowing that it might not work
Somehow I still believe that you and I will find a way
To fall into a spell unbroken by distraction
Or lips meeting as a reaction
Reality gets more and more remorse
Each day we grow closer and closer apart
Heart shattering, I remain whole somehow
Not cowering under the expression you give
Not being afraid to speak my mind to you
Opening my door so wide you can almost see to the other side
Putting all these words together making sure that they rhyme
Controlling the tempo, grabbing hold to the soul
That keeps me in this deep fantasy.
Playing tricks in the back of my mind
Grabbing hold to my body, wishing it were you.
Many others feel they can replace the emotions I feel
But little do they know it is undeniably real
I refuse to live in a world where I'm not with you
If I can't have you even to myself, well what else can I do?
What else do I say?
To make you understand.
Speaking another language would make us way more distant
Scientifically different.
But I disagree I think we are more alike than even I like
But even the most illiterate ones know better
They can sense how the presents of you make me melt
Like a bowl of vanilla ice cream on a Hot July Day
But my insides burn like the flames of a candle
I can't help but accept the other ones who've taken the throne
To be real, I deny that they truly deserve you
Or even understand everything that you do
The games I play in my head seem like the last for hours
Being the only contestant I want to claim my prize
Melting in to a puddle of longing and loneliness
I just feel as though I've known you for a long time
Backwards and forwards, inside and out.
That most people know nothing about.
I bet if I had a penny for every time your name came to my head.
Or the thought of you bounced through the roof of my forehead
I'd might have to take Mars up on his offer.
And earn that extra cash.
Maybe as
in those Songz, the neighbors will know your name
Keyshia dug into my soul and pulled out a best selling song
Last summer, Alicia knew I wanted to know your name.
Taking it a decade or two, I'd say that Luther knew my address when he spoke about my house
Because I hope it has become a home.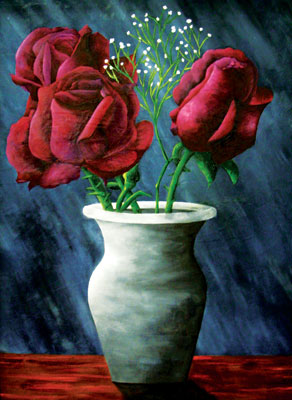 © Brandon S., LaFollette, TN