Your Life, Papá; My Life
January 12, 2012
Life. It was given to me; early.
I was wanted; I was feared… you both were so young.
I slowly grew up… but I made it to my eighth year.
Papá… Papá…
You died and Mamá cried.
I was now "The Man"
Papá, Papá, I made it to my fifteenth year.
I was taught by you, and was jumped in through and through.
Protecting Mamá, and my baby brothers… Papá, you'd be proud.
My first tattoo, it reminded me of you.
Papá I'm a gang banger now.
Covered in tattoos, they remind me of you.
I'm the messenger, the tough and rough body.
I won't deal your drugs; I won't just to prove my loyalty,
I won't spill my blood.
Papá, I carry a gun
I've never been caught, and Mamá fears for our lives
You taught me well, Papá, I'm your firstborn son.
Fights with the other gangs, knives, guns, and blood appear.
Endless scars, my body forever marred.
Papá… Papá, I'm practically you
I won't deal drugs; I won't put Mamá up to what you put us through
My "brothers" do drive-bys; I entregar una garantía y el dinero.
The gang won't let me out, for you let me in,
Papá, papá, I have your blood in my veins.
Daddy, Father, Papá, our family must have a death wish
You died dealing drugs… I died wanting out
I cried… no para mi hermanos del bebé, no para tú,
Papá, when I died -- lloré -- for my life; for my new girl,
And for our son soon to come.
The police have been after the banda,
And none knew of my wish… yet.
I told, I snitched, I wanted out.
They blindfolded me, told me of my useless worth,
I wasn't supposed to fight. Just accept.
They brought guns to the showdown,
A white-hot pain shot through my leg,
Blinding pain through the other as I went limp---
and went down.
I felt the blood trickle through my jeans
Next came the crimson cold feeling of death…
Straight through my chest.
Papá… Papá… I'm you.
Covered in tattoos, protecting Mamá and my little brothers…
Can't you see?
Somos padre e hijo a través y por medio de.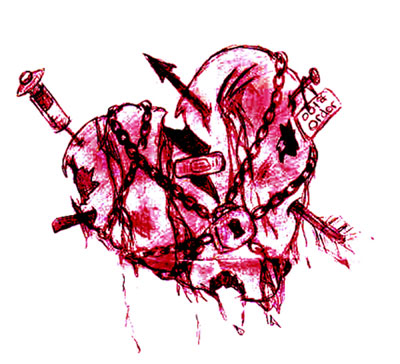 © Asia B., Hudson, MA