Autumn Leaves
October 2, 2011
I wonder what I should be?
The question is real,
Quite real indeed.

For far in the day,
I may find a way,
To choose my shape.

Monkey or ape?
I've come to this query,
To rise in a flurry
Of events hitherto unknown.

Were I a bird,
Then I could fly.
But with one simple word,
The novelty might die.

To be a tree.
Is that for me?
I'd sway in the breeze
And entice the bees,
But where would I go
Without legs to show?

Perhaps I could walk,
Like elephant slow,
But where, then, would I go,
With legs so long?

I'd walk so far,
And not know the way,
I'd have to just stop,
Then to myself say:

My world's a kaleidoscope,
Especially when I dream,
But now as I sit here,
There's nothing that seems

Quite so normal
As I once thought,
Like faith, truth, or love,
My belief can't be bought.

Here, now, I ask myself,
What shape should I be?
There's no shape quite grander,
Than the shape that is me.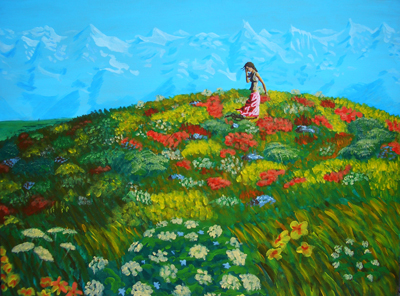 © Allison F., Langhorne, PA