Alone
September 4, 2011
On a cold winter night, the wind whistled through the cracks of my bedroom window. I kept listening, intently, to try and hear the comforting words of my mother, but they never came. I couldn't take it anymore. I grabbed my coat and scarf, pulled on my wool boots, and left the house at a quarter to one in the morning.


I trudged through the snow with rosy cheeks and a red nose. I shed a single tear that froze instantly. The too familiar metal gate of the graveyard greeted me as I tightly gripped my wreath of roses. The metal bars were wide enough apart that I could easily slip through them. After all, I was a skinny girl of six.


I wove through the headstones that were half buried in light clouds of snow. And then I found it. Her grave. The cold, hard bed of my dear mother. I carefully scraped away the ice and snow that hid her headstone from the rest of the world and placed my delicate wreath of roses atop her cold, lonely grave. I'd never felt so alone.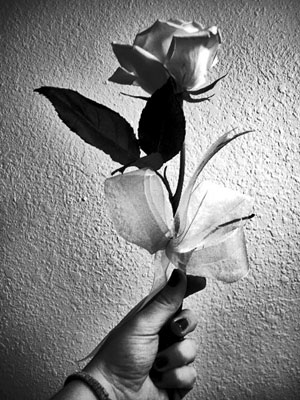 © Lauren R., Edmond, OK