Trigger Happy
June 18, 2011
Sometimes,
I wander the halls at night,
lights off
hands reaching out for the familiarity
of walls, and doors
and chairs.
I think to myself
"What if I were murdered right now?"
and I realize, I couldn't care less.



Maybe I've watched too
many movies,
or maybe I'm just tired of the circles
I keep drawing on every sheet of paper
in every used up metaphor I find.
That I get to a point in that circle
where if some stranger comes up behind me
I can be the most disappointing
supporting role in a horror movie;
the "indifferent victim".



I say shoot, and the attacker,
confused, and frustrated with the lack
of fear, or desperation,
turns around and leaves to find
someone a little bit more passionate.



And I wonder, how everyone would feel
if that happened to them. If a gun was
pointed
at every head
in every room,
in every silent town,
how many people would beg?
how many people, who walk from
place to place without purpose,
who waste their time and treat themselves
and other people like dirt,
how many of them would suddenly light up
like a fire was placed beneath them,
promise their house, their kids,
their wife.



How many would look the gun dead on,
and be unafraid, feel suddenly tired.
No adrenaline rush, just sick relief
that they weren't the ones who had
to do all the work.



And those, who would laugh
who would laugh and laugh and laugh
knowing the end was coming.
Those are the ones to fear.
They see how silly this all is,
and they know the punchline
better than anyone else.



And I can't see a thing,
these nights;
I'm stumbling blindly through
rooms I know so well.
But I see these triggers,
these fingers
and it makes me worry
because I know if I go out
I want to go out laughing
because I've seen too much
of this world, and what it does
to people, what it tells them
they must bear,
tells them they must carry.



And everyone says they
have to go on,
because everyone's a puppet
and you can't see the strings
attached to your fingers
until you try and cut them
and realize nobody would let you.



And it's then
that I know
I'm going nowhere,
that I'm lost in my own house,
that there are no murderers
busting down doors, gun in hand
trigger happy, waiting for me around
the corner.
I'm nobody important,
and I've got little to offer.
I'm young yet.
And I've seen too much,
and I' ve seen so little.



I feel my body grow heavy,
and I stumble up the stairs
and fall asleep.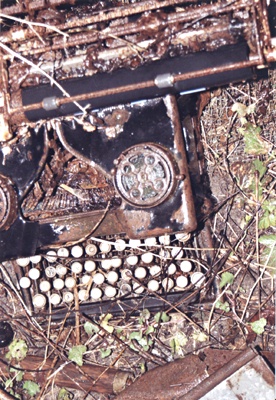 © Kyla G., Sunbury, PA