Footsteps
January 6, 2010
The salt soaked air fills his lungs,
And stings the back of his throat.
The ocean breeze just sweeps across his face.

December 31, on an empty beach
Seems cooler and calmer then ever before.
It comes in and out like the always rolling tides.
Bringing shells to the shore,
And washing away the footprints in the sand.

As the waves are pulled back in
The newly cleaned surface sparkles in the sun.
He looks down with his hands at his side,
Why couldn't life be that easy?

The footprints of the year are stained in his mind.
The smell of her perfume lingers with the salt,
And the imprint of her hand is forever on his heart.
A full year of love shines through pieces of broken glass,
The picture of a broken heart lay next to a broken shell.

The waters swirling around his feet,
And clouding the images in his thoughts,
As he plays back each day in his head.
But as the waves are pulled back in,
There's still the faint picture of a girl in the sand.
With only a single pair of footprints,
Leading straight into the ocean.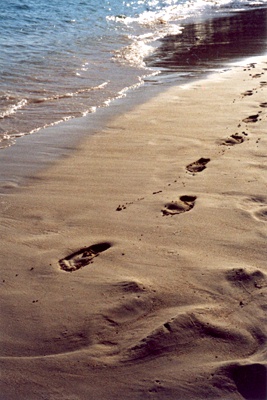 © Ashley B., Potomac, MD