Melancholy
April 26, 2010
Their eyes are blind to the mask I wear,
The face with a smile and no sign of fear.
My heart no more pumps venom, but sorrow,
I detest myself and dread tomorrow.
I'm not frozen cold, I feel the pain,
Agony rushes vehemently through my veins.
Across my skin, the sharp edge glides,
I let out the suffering and the demon that hides.
As the blood trickles down, it brings with it tears,
It's like I'm screaming but no one can hear.
The pain I inflict on myself and those around me
Makes me regret being born and will torture me eternally.
I'm haunted by shadows, spectres of my own existence,
It will go on to censure me with persistence.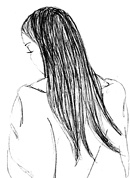 © Miranda B., Neosho, MO