Night time.
April 3, 2009
It's just after the sun sets.
The world quiets down.
But only for a moment.
Then it is alive!
Shinning with pearls in the heavens.
A chill settles over the world.
The trees brush against each other.
A silver ball is bright.
Hanging in the night sky.
Round and perfect.
Yet haunts us.
For when it rises, the world is dangerous.
The mysteries lift.
Yellow eyes burn from the trees.
Its the lone wolf.
He howls his displeasure up to the moon.
He howls his thanks.
He is whole again. Yet so far away.
Drifting each night.
All alone. All by himself. With nothing but the moon to guide him.
His master. His savor. His refuge. His enemy.
He has led him this fate.
There is no escaping.
They are friends yet apart.
Their hearts are opened. But remain closed.
They are the same but so different.
Holding onto each other.
There life is on a thread.
Held up by strings.
Frightened yet not.
They travel a long road.
Someday it will stop. A dead end.
Nowhere to go. Will be the end of time.
The moon and wolf with part forever.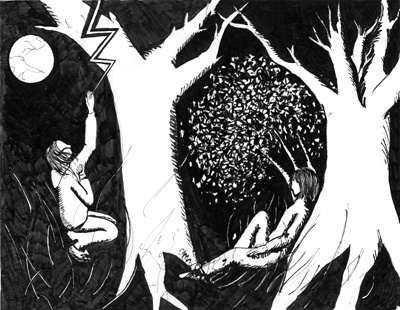 © Blair B., Davis, CA