The Life of a Tree
March 30, 2009
The trees' branches shake in the wind as if they are shivering
because of the cold.
The winter's snow is falling around them, blocking them from
the outside world.

The ice coats the branches of the trees, giving them a smooth,
icy appearance.
The trees' branches sway as if they are trying to shake the
ice off.

The sun comes out and the ice that was once coating the
trees falls in droplets.
The trees start growing little green leaves much like a child
grows it's first teeth.

The sun that once shone on the trees starts to fade and the
wind grows cold.
The trees start to lose their dry, brown leaves much like a
cancer patient losing their hair.

The trees are once again bare as they were a year ago,
and once again they shiver in the wind.
The winter's snow begins to fall heavy and thick, blocking
them from the ouside world again.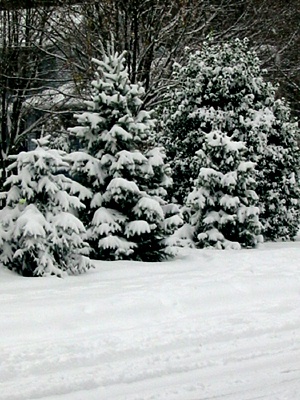 © Kristen S., Sewell, NJ