Moonlight Enemy
October 19, 2008
Moonlight shield outside my window. The night was cold our eyes were shut. Nobody could attack us, no danger in the air, no fear in our system. When your soul learns to breathe and love its the best feeling there is.

On my couch allowing my body to relax, and his is so beautiful when he sleeps. Don't leave just yet, the sun has just hidden from the world. let us do the same. Stay forever where we share our secrets.

I stare into your eyes feeling the sensation of peace that i've always longed for. and when i close my eyes your fingertips trace the features on my face. the music nodoby can hear beating in your chest, it's the best sound i've heard. I don't like to think this second will end like in the fairytale stories.

The clock must strike 12 but you freeze time with your kiss. Time, our one enemy that disables us from one another. Sand in the glass grain by grain dropping to measure how much longer until our true sleep.

You leave a kiss on my forehead as your sign of your departure. and when i wake i am alone and have only one thing to see. The moonlight shield outside my window.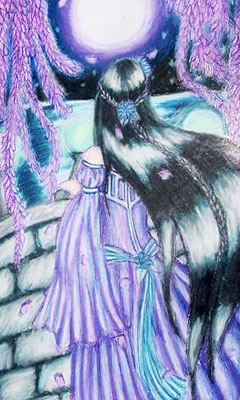 © Kelly K., Fort Collins, CO