Poem or Confession
September 20, 2008
It's not hard to write
Not for me, anyway
Because I write what I know

I describe the family I used to have
The son I almost had, and
My admiration for a first snow.
I write poems telling
How my dad hates a girl
No one knows I'm dating
And how I still haven't fixed my
Repeatedly broken heart.

I tell people everything
They don't need to know--
All my private thoughts and secrets
But they don't notice
Because I hide my truth
Between similes and metaphors.

I cover the ugliness of my life
With pretty words that swoop
And twirl on a page like ballet dancers
Gracefully distracting people from
What they're truly reading.

Even if I told everyone the real meaning
Behind my tiny silver ring
Or how I really feel about my mom
The draft would get returned to me
With the usual corrections focused on
Sentence structure, punctuation, and word choice

But if someone were to look
Behind the line breaks and
Discover the raw truth
Hidden among the stanzas

The words would stop being poems
And start becoming me.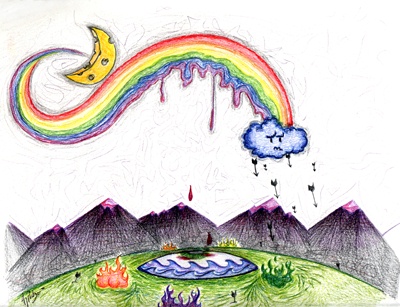 © Alexa P., Ridgeway, PA