The Pale One
August 9, 2010
With all of the hope and wonder and want,
It gives me a desire to hunt.
All of the venom, it covers my tongue
And then towards the victim I do lunge.
I rip its skin off with my cold bare hand,
And with the other one I smoothly land.
It quickly dies as I chew all its meat,
The blood of it tastes so nice and sweet.
I slowly lift myself up and clean off.
Away I walk with just a soft cough.
I sniff the air and I smell another,
I hear the roar come from the Mother.
Faster...and faster... I run swiftly home.
I have a place, I no longer roam.
Back to my wife and family I came;
We're one, together, and all the same.
I'm a creature of a mythical tale,
My kind is dangerous, quiet and pale.
Our eyes are blood red like a burning hell,
Our voices sound just like a bell.
Our prey is quite aware of the pain,
But for us their shrieking leaves no stain.
So beware when you travel far away,
Off of the known path you should not stray.
Or we, the creatures, will surely find you,
To the myths and tales we will stay true.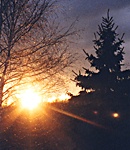 © Vhristy S., Germantown, NY