Seasons Change, as does life
June 19, 2009
The air is crisp and chilly on this Autumn morning.
I see, from my vantage point on a hill, a sea of reds, yellows, and oranges.
It sways in unison.
It looks beautful, glowing with the sunrise in the background
I realize that soon, this sea will become grey, all the leaves fallen off of the branches.
It seems like such a sad thought.
But I then started to realize, that to become the beautiful flowing sea of green,
they must first go throught the time of bleakness.

I decide to visit this hill again, one morning, a few weeks later.
As I'm looking into the expansion of grey, I see a single leaf, residing on a tree.
It is like a speck of light, in a sea of darkness.
As I'm looking at this single, curious leaf, holding on for dear life,
the tree looks as if it has a slight hope that the leaf will never fall.

A light breeze picks up, and the leaf shakes in the slightest way.
I can see it yourns to fly free into the baby blue sky,
but it loves the tree for giving it life.
With great unsureness and resistance,
the leaf flys free.
It is such a bittersweet vision.
I will never forget those two mornings.
They will forever rest in my memory.
I think I will try every year,
to come back to this hill at this time of year, and in Spring to witness the flowing sea colors, and watch them change over time.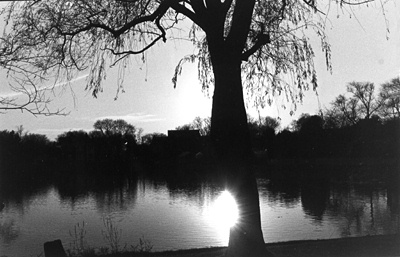 © Chuck K., Marblehead, MA