NCAA Tournament Committee Disappoints Again
March 29, 2013
It's that time of year again. Not the start of March Madness, but the part of the tournament where we've gotten past the hourly buzzer beaters and 14, 15, and 16-seed Cinderellas making their runs at upsets. Well, usually.

This is the time where journalists, teams, analysts, and even the NCAA itself evaluate the job of the selection committee. Of course we're not bored yet (Florida Gulf Coast's "Dunk City" is still alive and well), but I've noticed that I've been complaining quite a lot about the tournament bracket. Plus, I think that chairman Mike Bobinski, Xavier Athletic Direcror, lied to everyone on national television when he said that the committee doesn't see matchups until the bracket is released.

So they don't see the bracket that they chose? They don't know that they put Kansas and North Carolina perfectly in place for a matchup in the South region? It was almost a shoe-in that it would be a Roy Williams reunion (considering Villanova was the softest 9-seed), bringing that much more viewers and that much more revenue. Come on.

I think that, despite the undeniable (here's that word again) parity in college basketball this year, the NCAA Tournament Committee not only struggled with choosing the right 37 at-large bids, but with the seeding as well. There's always been debate over the "Big 6" conferences and the amount of respect they get over non-power conferences. Fans of smaller schools always use the fact that there is always an upset of a non-Big 6 over a Big-6 team, therefore insinuating that non-power conference schools deserve the same or better seeding than power-conference schools with worse records. This has been proven and proven again false.

I don't care what people say, non-power conference teams never face the same amount of competition as say a Maryland or a Virginia, two ACC snubs of the NCAA Tournament, who beat Duke a combined 3 times. Maryland, now in the NIT semifinals, had the best BPI of any team that did not get an at-large bid, and better than five teams that did receive an at-large bid ? Cal, La Salle, Temple, Villanova, and Illinois (three Philly teams, by the way).

Also, some conferences as a whole were elevated above or below what they deserved, in terms of seeding. The Mountain West Conference had 5 at-large bids in the tournament, which went a combined 2-5: 3-seed New Mexico (lost in second round to 14-seed Harvard), 5-seed UNLV (lost in second round to 12-seed Cal), 7-seed San Diego State (lost in third round to 15-seed Florida Gulf Coast), and 13-seed Boise State (lost in first round to other 13-seed La Salle). Boise State in particular really set me off, considering they should have never should have made the tournament, going 21-10 and 9-7 in the MWC. And as for the other teams, they all lost to a team with a lower seed, and nobody made it past the third round. I knew that New Mexico was overrated all season long, considering that 19 of their 29 wins were by 10 or less, and on January 26 they lost 55-34 to San Diego State.

The Pac-12, on the other hand, was greatly underrated. Oregon, as you've heard a million times by now courtesy of friends, ESPN, chat rooms, any sportswriter covering the Tournament, and their record, was disrespected immensely by receiving a 12-seed. A team that won the Pac-12, had a 12-6 record in the Pac-12, and a 26-8 record overall gets a 12-seed. Wow. I don't think even God saw that one coming (I'm a Christian, so it's not a religious slur). They've promptly proved they were done-over by beating both 5-seed Oklahoma State and 4-seed Saint Louis by double-digits and advancing to the Sweet Sixteen, before they lost tonight in a valiant effort against 1-seed Louisville, 77-69. The Pac-12 top seeds belonged to UCLA (25-10, 13-5) and Arizona (27-8, 12-6), both 6-seeds (these are their current records, not the ones that were presented to the committee). The other teams to make the tournament from the Pac-12 were Cal and Colorado, a 12 and 10-seed, respectively.

What I've put in front of you has probably left you thinking, "What prompted the NCAA Tournament Committee to be so biased in its selections?" The connection is simple; look to the Committee itself, not the teams. It's not New Mexico's fault that it was disgustingly overrated, or Oregon's fault that it was thrust into a poor situation, or Maryland's fault that neither the ACC or Big 10 executives are in support of the school. The team was not going to get a shot unless its own athletic director was on the board. Which is exactly my point: the Committee is biased because of whom many of them represent. 6 of the 10 members are a commissioner of a non-power conference or an athletic director of a non-power conference team. There were no representatives of the Pac-12 Conference.

It's very obvious that non-Big 6 conference teams were supported, given that Boise State was placed in the field over Maryland and that the cool-hand chokers Saint Louis and New Mexico received 4 and 3-seeds, respectively. Oregon looked like a much better team than the Billikens, besting them by 17 in a game that was never really close, and I'm sure Arizona would have trounced 2-seed candidate (give me a break, Reggie Miller) New Mexico if they were to slip past 14-seed Harvard. Harvard.

We can only hope that the Tournament Committee is looking forward to next year, because this selection was nothing to be proud of. And fortunately, two on the Committee (including Bobinski) have terms expiring after this year, and one that expires in 2014. It's sad that we've been reduced to looking at it this way. There was going to be parity anyway, but the word has been overused for a reason, folks.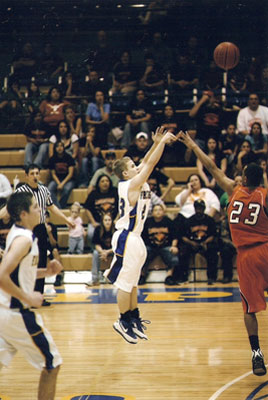 © Jordan M., Lubbock, TX