Everything I Used to Know
March 5, 2018
Summary:
It has officially been 3 months since I moved to Springfield and was enrolled into Terrance Academy.
In these three months, which have felt shorter than I can even explain, I have learned a lot about myself.
First, living with my grandmother has been more rewarding than I would have originally believed. With grandma, comes the perk of me getting more spoiled than my father would have pleased. She loves spending time with me, and the more I am around her, the more I really enjoy her presence. Living here is also easier when there's a nice boy next door who makes everything better. Emmett and I have become closer during these months. Who would've thought that a car crash could lead to such genuine friendship? I haven't made a friendship to fill the void I feel without Kara, but I'm beginning to believe that that is okay. True friendship remains unfettered by distance or change.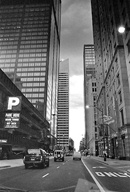 Nicole C.
Everything I Used to Know