Volleyball Problems
February 23, 2018
Volleyball is a very complicated sport that very few athletes play. It requires athleticism, smarts and skill to be able to compete with the best of the best. Girls like me train their butts off everyday to be able to play at the highest level and compete for college scholarships. The competitiveness of the sport can get to girls heads and make them want to quit altogether. I have personally experienced this and the outcome of pushing through it has been amazing.

I started playing volleyball when I was in fifth grade. I mean when you're that young I don't really think you can call it volleyball. But thats when the love of the game starts. I barely could get the ball over the net when I was serving. Going into sixth grade I got a little better and could now actually get a rally going. During that time volleyball was very simple and you just played to have fun and be with friends. No politics and no worries, just a bunch of girls playing volleyball.

Once I got to seventh grade the game changed a little. It got harder and faster. All of the girls got bigger and stronger but so did I. At this point I knew that I wanted to play volleyball for a long time and never wanted to stop. During this year I started to play club volleyball and started getting better and better at the thing that I love to do. In between seventh and eighth grade I started getting really serious about playing in college and started training harder. Eighth grade finally came I all of my training had paid off. I was the starting middle for A team. That year I had improved so much from school and club that even I impressed myself.

After four years of training my time had finally came to become a high school volleyball player. All of the girls were so much bigger and stronger than I was. I was so scared that they would pound the ball in my face and hurt me. As tryouts came to an end, I found out that I had made varsity as the second middle. I never thought it would happen. Me this little freshman man varsity and was actually going to play. As season went on I got more comfortable and my skills began to improve.

Club season was right around the corner and I was trying out for a better club and everyone there was better than me. Most of these girls had already committed to play volleyball in college. This crushed my dreams. I got the feeling at this moment that I would never make it at this high of a level. I wanted to quit volleyball right then and there. I tried to fit in with the other girls and play at their level but I just couldn't do it. I was devastated and didn't know what to do. After tryouts were over I found out that I made the top team and I was so shocked. All of the other girls were so much better than me.

At our first practice all of the girls were so welcoming and made me feel like I belonged. And then we actually had to start playing volleyball. These girls were faster, stronger and had more training than I did. I had the feeling again that I didn't belong and that I needed to quit. I just wanted to run out of the gym crying because I felt like I was the worst person ever at volleyball. The way that these girls could jump and hit amazed me and I had no clue how they did it. I dreaded every practice because I knew that this feeling would always come back to me.

I kept training really hard and I started to notice an improvement. I still wasn't up to the level of the other girls but I was getting there. Little by little I started to gain my confidence back and with my confidence came a higher level of play. My hits got stronger and faster and my speed improved on the net. I got more comfortable around the girls and started not being afraid to make mistakes on the court.

My sophomore year we basically had the same club team so I started off the year a lot stronger and a lot more confident. This was the year that our team as a whole improved so much. Over the six months that we were together we all bonded more as a team and became a stronger unit. This was the year that after all of that training we got second place at our national tournament. By this time my struggle was gone of feeling left out and feeling like I didn't belong.

Now my junior year has been rough but good things have came out of it. Just recently I verbally committed to play college volleyball at Rice University. Rice is a division one school and is basically the Harvard of the south. After all these years of struggling I finally reached my goal to be able to continue my volleyball career on into college. I never gave up on my dream no matter how tough it got and I'm so happy I didn't.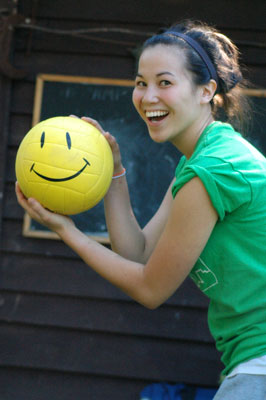 © Masaleen O., Palatine, IL