The Race
November 27, 2017
25 percent of people would rather not see immediate family for 6 months than run a marathon. The excruciating pain, effort, and perseverance that it takes to run a marathon is enough to make one out of every four people rather not see their family than run it. I would say that I used to be one of those people. Maybe not to that extent but I definitely would not have called myself a runner. Not because I didn't enjoy it, but because I didn't think of myself as good at it. I never thought I could improve, but that all changed after 6th grade.
It all began to change after one morning in the middle of 6th grade.The day was calm and my friends and I weren't in a very talkative mood. The entire middle school wasn't talkative this particular day actually. The room was quieter than usual on assembly days and the newly renovated assembly room reeked of paint. We sat patiently awaiting the principal to start the assembly. The principal walked up to the stage and called our athletics director Mr.Rauk to join him. We clapped very enthusiastically as Mr.Rauk made his way to Mr.Lee, our principle.

"Good morning students, As many of you know track and field season is right around the corner and ten middle school students will get the opportunity to compete in our annual tournament against schools in our region or SAISA. So if you would like a consent form I will be handing them out after the assembly is finished." The students clapped ardently as he walked off stage, track and field was a very popular sport. The assembly had finished and a group of students rushed to the back where Mr.Rauk was waving forms. I kept walking towards the exit until I saw my friend Aadit come up to me.
"Are you not going to join track?" He asked me.
"I don't know, are you? I replied. I had not really paid much attention to what Mr.rauk was saying but I could clearly tell that he had.
"Yeah!" He answered. That was probably the response I was expecting as Aadit had been extremely fond of running at the time. I was about to tell him that I was not interested, but I had found myself walking to the direction of Mr.Rauk with Aadit nudging me along the way. I waited in the line and grabbed a form very reluctantly.
"First day of practice is in a week." He said as he handed me the form.
The weeks leading up to the first day of practice vanished in the blink of an eye as I found myself glaring at the clock in the last class of the day. The bell rang and my stomach dropped. The first day of practice was here. I grabbed my athletics gear from my locker and trudged onto the field with Aadit where 100 students stood warming up under the blazing sun. Aadit could sense something was wrong as we were warming up.
"Don't worry alright," he said. "You'll be just fine." The coach walked onto the field and welcomed us to the first day of practice. He told us what he was looking for and sent us off to pick an event. I had picked long distance running. Thinking back I don't really remember why I picked long distance. I had known that I wasn't fast, or strong so I picked an event that required endurance. On our first run, I did horrible. We set off our run and I could tell that I was going to do badly from the start. It was a cool 40 degrees on that day and the arid environment didn't help either. I was the last one to finish the run and when my pathetic attempt had ended I fell on the ground as my legs screamed in pain. Every practice after that was the same. The older kids would run laps around me and my times were a joke. Oh, how I envied their talent. I thought people were only born with talent and that you could never achieve it until a few months in I noticed something. To my astonishment, I began to improve. I began to cut seconds off my time and had begun to run with the kids that I envied before. I had made strides in my times to the better and that is why I think that on that calm Thursday night I saw my name on the SAISA list.
I was running the 1500m for the team's 10-12 boys category. My race was the first race of the entire tournament I was as nervous as ever. I had never thought that I would be in this situation, to begin with. I made my way to the school that morning and went to my team's room. There the entire team stood preparing themselves for the stressful weekend. I had dropped my stuff down and went on the field to warmup. I ran a couple of warmup laps and heard my name being called from the giant speaker. The atmosphere was very still as the sun slowly crept over the horizon. It was very silent on the field. I was first to walk up to the start line. I had felt good about myself. I had a decent time and was ready to try my best, but opponents twice my size came trickling into the signup booth one by one with bodies made for running. My heart sank. How could I possibly win under such conditions? Nevertheless, I was still determined to try my best. The official stood on his podium to start the race and the starting line was filled with emotion. I began to reflect on myself. On my journey. I was not going to let emotions stop me from trying my hardest. The crowd was silent anticipating the sound of the starting rifle to start the race. BANG! The gun went slicing the silence into a million pieces. We began to move at a decent pace. Everything I had done has prepared me for this moment I reminded myself. The crowd began to cheer with the loudest roars chanting team anthems.

"LET'S GO EAGLES." I heard my team shouting from the back. This was a seven and a half lap race and two laps in I was last, but that was okay I was just storing energy for the ending. I was at the end of the pack but with every lap, I inched closer to the top. Two laps I began to run. I sprinted past everyone keeping my position in mind. 13th,12th,11th… My sprint caught everybody by surprise. I made my way to the top of the pack fighting for the first position. One lap left everyone put in their all. I struggled as two people quickly bolted past me. My legs moved faster than they had ever moved before and as I crossed the finish line I heard an official shout out THIRD! I couldn't believe it. I collapsed on the field with a massive glee, and later that day I stood on the podium as my coach handed me my third place medal in elation.
I am looking back at the experience as I am about to join the volleyball team. I am quite short but even though volleyball is a sport for the tall I am going to use what I have learned from this experience to carry me through this one. As the other kids will inevitably tower over me like giants I will remember that through hard work I can achieve greatness. I was very unsure about joining the track team and thought that talent could not be earned and that you were born with it, but a few months of hard work later I became the kids I envied and I won a medal. The significance of this piece is that now when I am faced with something new I will remember that if I work hard I can achieve the level I want to achieve in that thing no matter what circumstance is.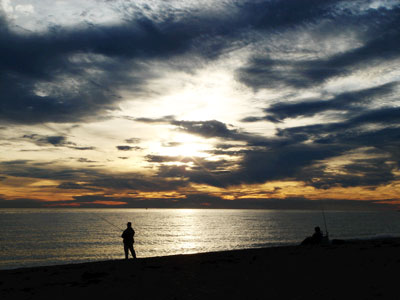 © Sarah C., Hillsdale, NJ